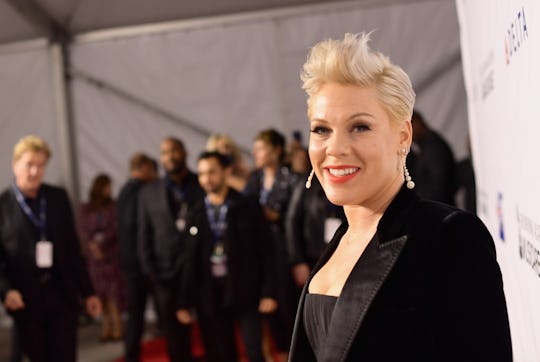 Matt Winkelmeyer/Getty Images Entertainment/Getty Images
Pink's Kids Did The *Sweetest* Thing For Her After Losing At The Grammys — PHOTO
Sometimes winning a shiny trophy isn't the best thing that can happen, after all. After her album Beautiful Trauma lost out on the award for Best Pop Vocal Album at Sunday's award show, Pink's kids made her a homemade Grammy award and, TBH, it was the perfect was to celebrate that night.
Pink's album lost out to Ariana Grande's Sweetener at the 61st annual Grammy Awards ceremony, as People reported, but the pop star wasn't crying about it at all. Instead she took to Instagram to share two photos of the sweet aluminum foil award that her kids made for her, complete with printing that read "Best Pop Vocal Album 2019 Grammy Awards 'Pink Beautiful Trauma'". She captioned the photo with her appreciation: "Thanks Kids :) my favorite kind of award."
The fact that her daughter and son — 7-year-old Willow and 2-year-old Jameson — knew just how to label their trophy might show that they'd been peeking at one of the three other Grammys that the singer has won in the past. The first came in 2001 for her collaboration on "Lady Marmalade," the second in 2003 for Best Female Rock Vocal Performance on "Trouble" and the third in 2010 when she partnered with Seal and India Arie for "Imagine," according to the Recording Academy.
Actually, the kids had more than just her three real trophies to model this one after. Every time she is nominated and doesn't win her husband, Carey Hart, makes her a tinfoil award, Pink told Ellen DeGeneres last week, according to E! News.
"Every time I lose Carey makes me a tinfoil Grammy, and so this will be my 17th tinfoil Grammy on Sunday," Pink laughed as she described the sweet gesture. The singer also performed a small clip from her next single, "Walk Me Home," releasing in a few weeks. She said she is getting ready to shoot the video for the song with Michael Gracey, the director from The Greatest Showman.
Pink stayed at home during Sunday's Grammys, perhaps because she knew she hadn't won. The news that Ariana Grande was taking home the prize was released a few hours prior to the ceremony, according to Today. Instead, Pink had bigger priorities: a sick son.
She tweeted that she thought it was "kind of rad" that she lost on her 20th nomination and that now it was time for her to get her sick baby into the bathtub.
Perhaps taking the sting out of the loss was the fact that she was also recently honored with a star on the Hollywood Walk of Fame. DeGeneres spoke at the ceremony and then talked to the singer about the event later on her talkshow. Pink told DeGeneres that the ceremony was difficult for her as she felt embarrassed and doesn't accept compliments well — and "that's a huge compliment."
But Pink also described how her daughter reinforced for her that she should think differently by writing her a sweet note. According to People, Willow wrote: "Mama this is a big deal. And I'm glad it's you and not Justin Beaver." The singer agreed that it must be a big deal.
Despite not knowing how to spell Bieber's name, Pink's kids are obviously the greatest and super proud of their accomplished mama.