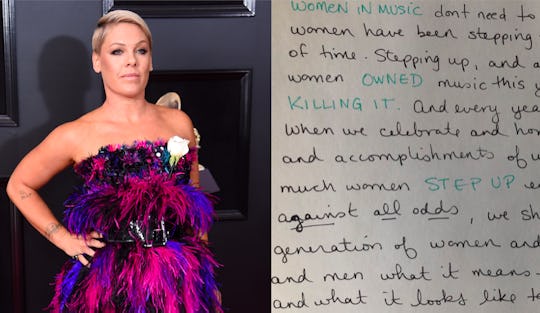 Dimitrios Kambouris/Getty Images, Pink/Twitter
Pink Had The Best Response When A Man Said Women Need To "Step Up" To Be Recognized In Music
At the 2018 Grammy Awards, only one of the nine main televised awards was won by a woman, with men dominating every other category. Viewers took issue with the lack of female representation, and the situation was made worse when Recording Academy president Neil Portnow remarked that women in the industry needed to "step up" if they wanted more visibility. The comment was more than a little infuriating, but when Pink clapped back at the man who said women need to "step up" to be recognized in music, she said exactly what needed to be said.
According to USA Today, Portnow told journalists post-show, "I think it has to begin with women who have the creativity in their hearts and their souls — who want to be musicians, who want to be engineers, who want to be producers, who want to be part of the industry on an executive level — to step up, because I think they would be welcome."
He went on to say, "I don't have personal experience with the kinds of brick walls that [women] face. But I think it's really a combination of us in the industry making a welcome mat very obvious: creating mentorships, creating opportunities, not only for women, but for all people. And moving forward, creating that next generation of artists who feel like they can do anything and say anything."
Portnow's words were frustrating because they totally missed the point, but Pink was there to explain it. She posted the perfect response in a handwritten note to her Twitter account. She even changed up her ink color for emphasis, just in case what she was saying wasn't already clear enough. She wrote:
"Women in music don't need to 'step up' — women have been stepping since the beginning of time. Stepping up, and also stepping aside. Women OWNED music this year. They've been KILLING IT. And every year before this. When we celebrate and honor the talent and accomplishments of women, and how much women STEP UP every year, against all odds, we show the next generation of women and girls and boys and men what it means to be equal, and what it looks like to be fair."
There was no shortage of women in the industry who deserved accolades, but it felt like they weren't receiving opportunities at the Grammys. In addition to the sole female winner, there were other instances that felt suspect or injust. Lorde was the only female nominee for Album of the Year, but she didn't get to perform like her male co-nominees did.
Ed Sheeran also won Best Pop Solo Performance over four women nominated alongside him. For women to be seemingly overlooked at the ceremony and then to have Portnow claim the onus was on women to "step up" felt hypocritical, to say the least. Women had stepped up and then, as Pink said, were made to step aside.
Portnow later expressed regret for what he said, releasing a statement intended to clarify his meaning to Variety. It read, in part:
"Sunday night, I was asked a question about the lack of female artist representation in certain categories of this year's Grammy Awards. Regrettably, I used two words, 'step up,' that, when taken out of context, do not convey my beliefs and the point I was trying to make."
He went to say he had not been "as articulate as I should have been" and that the industry needed to recognize that women face barriers that men do not. It's uncertain what he meant about his original words being taken out of context, because within context they appear to share the same meaning many listeners interpreted in the first place.
When it comes to stepping up, women have already done their part (and then some). Now it's the industry's turn.
Check out Romper's new video series, Romper's Doula Diaries:
Watch full episodes of Romper's Doula Diaries on Facebook Watch.