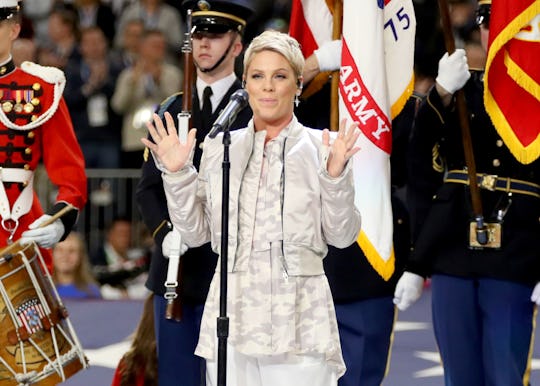 Christopher Polk/Getty Images Entertainment/Getty Images
Pink's National Anthem Reaction Proves The Flu Is No Match For An Iconic Performer
Prior to the beginning of Super Bowl LII, Kylie Jenner announced the birth of her daughter and, well, Super Bowl Sunday quickly became "Kylie Jenner Had A Baby" Day. Enter: Pink. Pink's national anthem reaction proves the flu is no match for an iconic performer. Jenner who? (Ha. Just kidding. There's now way the United States of America is going to forget the Kardashian/Jenner family, guys. No. Damn. Way.)
Prior to Super Bowl Sunday, fans were honestly worried about Pink's national anthem performance. The 38-year-old singer is reportedly battling the flu, according to CBS, but went on to perform anyway. Who run the world? Hell, you already know. Girls. But how well can one sing "The Start Spangled Banner" with the chills, a fever, and probably a head-full of snot and phlegm? Pink is an astounding performer, but she's still a human being, guys. Well, then again, after her national anthem performance in which she sang the damn lights out, the jury is out as to whether not Pink just decided to grace us all with her other-worldly presence and leave her home planet behind.
Pink is coming off a moving-performance at the 2018 Grammys, so perhaps we shouldn't be collectively surprised that she was able to overcome the flu and sing her damn ass off. Wearing nothing but a white t-shirt and jeans, the singer performed her ballad "Wild Hearts Can't Be Broken" during the Grammys, with a raw passion and seamless grace that only a once-in-a-lifetime performer can embody.
So between her Grammys performance and her national anthem performance, one thing is for certain: Pink is a timeless angel with the voice of a goddess and we do not deserve her. Here's what fans had to say about her kick-ass Super Bowl performance:
Of course, it's worth nothing that taking care of yourself, and putting yourself first at times, is vital when you also give so much of yourself to not only your fans, but your family. And, of course, Pink hasn't hid how much she values self-care. In April 2015, Pink posted a reaction to comments about her weight on Twitter. She wrote:
So, my good and concerned peoples, please don't worry about me. I'm not worried about me. And I'm not worried about you either. I am perfectly fine, perfectly happy, and my healthy, voluptuous and crazy strong body is having some much deserved time off.
So if you think Pink didn't prioritize her health and wellness as not only a necessity, but as a way of preparing to sing the national anthem at Super Bowl LII, well, you'd be wrong.
Perhaps the key to Pink's national anthem success was the gum (or that's at least what people thought it was) she was chewing, and took out, immediately before she started singing. Twitter was quick to pick up on her gum's short but noticeable appearance, and took to the internet to discuss the gum and how it may or may not have helped her perform at such a high level, and while battling the flu like a damn boss. Here are just a few tweets from Super Bowl viewers:
Or maybe it wasn't the gum at all. Maybe, just maybe, Pink is the kind of performer who can do it all, and even when she is sick. Whether it's performing while dancing on the side of a building, or being an example of female strength for her daughter and children the world over, Pink is one for the record books. And, I guess, so is her gum. May we all, one day, be able to do something half as great as Pink can while battling the flu during a particularly unrelenting flu season. You're the real Super Bowl MVP, Pink.
Check out Romper's new video series, Romper's Doula Diaries:
Watch full episodes of Romper's Doula Diaries on Facebook Watch.