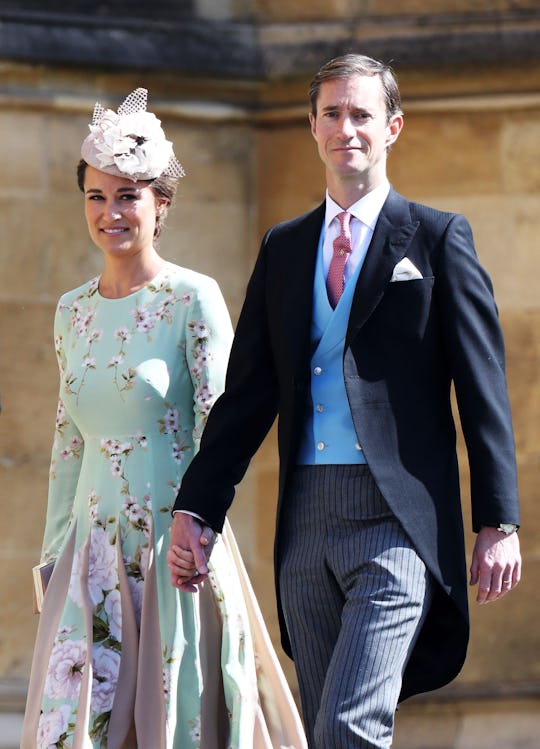 Chris Jackson/Getty Images Entertainment/Getty Images
Pippa Middleton Says This Summer Activity Is Perfect For Pregnant Women
Pippa Middleton, sister of Duchess Kate and purveyor of all things classy, charming, and British, is expecting her first child with James Matthews, whom she married last year. When news broke that another baby would be coming into an extension of the royal family the world rejoiced, because if Middleton women are masters at anything it's making shift dresses look perfect and pregnancy look easy. Most recently, the royal sister-in-law has opened up a bit about how she's getting through her last few weeks. Pippa Middleton says this summer activity is perfect for third trimester pregnancy, and raves that it's the exercise she's happiest doing.
In her latest column for Waitrose Kitchen, where she is a monthly contributor, Middleton opened up about her current exercise obsession: swimming! "From personal experience, I'd confidently say I find it has been the most enjoyable and rewarding form of exercise since I found out I was expecting," She wrote, and according to People. "It's comforting to know that it's safe throughout pregnancy, and you don't need to adapt and change too much (unlike most other sports). It's so good for you that you could swim every day – as long as you don't overexert yourself – right up until the end of the third trimester."
Middleton went onto explain just why swimming is the perfect activity for expectant mothers: "As with other forms of exercise it boosts oxygen levels and strengthens the heart, enabling you to get more nutrients to your unborn child to help them grow," she said. (What To Expect confirms that swimming is indeed a great exercise during pregnancy, as it is low-impact, reduces tension, and engages many muscles at once.)
She continued by explaining that it's "one of the most therapeutic ways to work out," especially for anyone struggling with their mobility. She adds that it definitely helps your posture too, which can be tricky as your stomach grows, and that it's great for offsetting pelvic misalignment. She continued:
As the summer weather contributes to feelings of bloating and swelling, swimming will keep your body cooler while exercising, something that is a relief in pregnancy, preventing swelling in the arms and legs," she said. "But even in the cooler months, temporarily joining a local pool can be worth the investment. If this is the only exercise you do during pregnancy, you're onto a good thing!
Back in June, Elle reported that it was in the same column that Middleton announced her pregnancy in the first place. "When I learned the happy news that I was pregnant, I realized I needed to adjust my normal 4-to-5-day-a-week routine and find a way of continuing my exercise safely throughout the three trimesters," she said.
However, despite all the changes she'll be going through not just physically but as well in her personal life, Middleton maintains that she's more committed to health and fitness than ever. "I've noticed my body change and weight increase, but through effective exercise and sports I feel that it's being strengthened to support a healthy pregnancy, birth, and recovery," she said.
Elle also reported that, unlike her sister Kate, Middleton has not struggled with Hyperemesis Gravidarum, the extreme morning sickness that landed the Duchess in the hospital on multiple occasions, The Sun reported. Be that as it is, it's likely easier for Middleton to maintain a more rigorous or consistent workout schedule, and it stands to be reminded that though exercise and body movement is crucial for every pregnancy, every woman's experience is different, and there's no reason to feel bad if you can't keep up with what everyone else is doing.