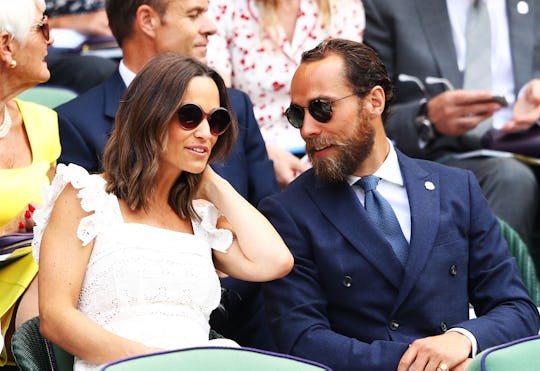 Michael Steele/Getty Images Entertainment/Getty Images
Pippa Middleton's Pregnancy: Here's Everything We Know So Far
The royal family continues to grow in size with new marriages and babies, but what about their extended family? Pippa Middleton's first pregnancy is rapidly approaching its end. In anticipation of the new baby, here's everything we know so far about Pippa Middleton's pregnancy.
Pippa Middleton is the younger sister of the Duchess of Cambridge, Kate Middleton. Although her sister's marriage into the royal family didn't grant Pippa her own title, she may obtain one in the future.
On May 20 2017, Middleton married James Matthews, a former professional racing driver, as reported by The Guardian. Matthew's father is David Matthews, the Laird of Glen Affric, a Scottish estate located about 15 miles from Loch Ness. Because Matthews is heir to his father's title, Middle, as his wife, is heir to his mother's title - Lady of Glen Affric.
Pippa Middleton has been no stranger to the public eye as the aunt of Prince George, Louis, and Princess Charlotte. But, now it's Middleton's turn to foray into motherhood as a mom-to-be!
On June 7, 2017, Middleton and Matthews announced that they were expecting their first child. As Middleton approaches her due date, which Harper's Bazaar reported as sometime in October 2018, fans are definitely excited.
Throughout her pregnancy, Middleton has shared a few things with the public. After reports surfaced surrounding her pregnancy, Middleton confirmed the news and opened up about her first trimester in a column for the U.K. supermarket monthly Waitrose, as reported by People.
With her pregnancies, Middleton's sister, the Duchess of Cambridge, infamously suffered from severe pregnancy sickness. Known as Hypermesis Gravidarum (HG), it can sometimes be severe enough to require hospitalization, which happened to the Duchess in 2012.
In her column, Middleton shared that she did not have to battle the same condition as her sister.
"I was lucky to pass the 12-week scan without suffering from morning sickness. That meant I was able to carry on as normal," Pippa wrote, according to People.
However, despite not having to deal with HG, being pregnant did involve some change in Middleton's routine.
"When I learned the happy news that I was pregnant, I realized I needed to adjust my four to five-day-a-week [fitness] routine," she wrote, according to People.
Now, Middleton is actually exploring ballet inspired workouts, as reported by Harper's Bazaar. Before dabbling in ballet workouts, Middleton revealed that swimming was her favorite pregnancy workout. According to Hello! Magazine, Middleton said:
"Swimming throughout pregnancy offers a wonderful feeling of weightlessness. From personal experience, I'd confidently say I find it has been the most enjoyable and rewarding form of exercise since I found out I was expecting. It's comforting to know that it's safe throughout pregnancy and you don't need to adapt and change too much (unlike most other sports)."
There are definite benefits to swimming while pregnant. Swimming works your muscle groups but is relatively low impact, as outlined by BabyCenter. It's part of why hydrotherapy is so great. In addition, BabyCenter reported swimming can help alleviate swelling, counteract back strain, and improves circulation.
Many people are probably wondering if Middleton and her husband are having a baby boy or girl. The answer? They don't know.
On the UK talk show This Morning, Middleton's brother-in-law Spencer Matthews revealed that the couple weren't going to learn the sex of their first child prior to their child's arrival.
"They're extremely private," Spencer Matthews shared, "and honestly, we know nothing."
It seems, as Town & Country noted, that Middleton is following in her older sister's footsteps.
Overall, Middleton has kept a delicate balance of keeping the public informed while still retaining some of her privacy. Fans are definitely excited for this mom-to-be, though, and looking forward to sharing their congratulations with her when the big day comes!