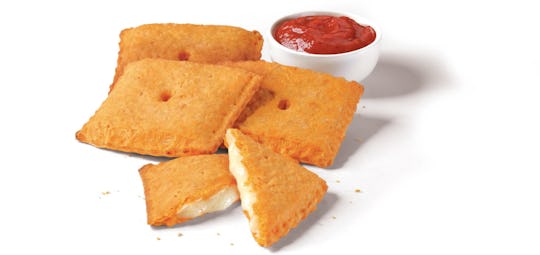 Courtesy of Pizza Hut
Pizza Hut's Selling Stuffed Cheez-Its That Are Filled With Your Fave Pizza Toppings
Have you ever eaten Cheez-Its snack crackers and thought, "Wow, I'd love to eat these with gooey cheese and pepperoni in the middle"? Neither have I. But the best mashup foods are gifts you never knew you needed, right? Yum! Pizza Hut's new "Stuffed Cheez-It Pizzas" creation takes two of America's most beloved snack foods and turns them into a cheese-stuffed "slice" that resembles a classic Cheez-It cracker, down to the little hole in the middle. I give them an A+ on design. But the important question is: how does this intriguing concoction taste?
Imagine the iconic sharp cheddar flavor of Cheez-Its baked into a breaded square pocket filled with mozzarella cheese. The outer layer is is more like a crust than a cracker. If you're feeling spicy, you can also order the pizza stuffed with pepperoni and cheese. Basically, it's like a mini Hot Pocket — for those of you who are serious about their munchies mashups. Each order comes with four jumbo Cheez-It squares and Pizza Hut's classic marinara dipping sauce for your dunking pleasure.
I'd say the Stuffed Cheez-It Pizza is a kid's dream snack, but only if we're talking little kids, big kids, college kids, and adults who are kids at heart. The collab is a win for people who love both toasty cheese crackers and a good stuffed pizza (so, almost everyone). I know I've wished a time or two that my beloved Cheez-Its were bigger than their bite-sized squares.
The creative pizza sensation arrives just in time for the thick of both college football and the NFL football seasons. A table full of Stuffed Cheez-It Pizzas will be sure to get the party or the tailgate started right. "We pride ourselves on being the go-to for unexpected pizza innovations, and I can't think of a more badass partner than Cheez-It to bring our next original menu item to life," said Marianne Radley, Pizza Hut's chief brand officer, in a press release.
The Stuffed Cheez-It Pizza is available exclusively at Pizza Hut now at $6.49 for a pack of four, and availability may vary dependign on location. You 'll have to contact your local Pizza Hut to see if they've got these treats in stock for you and your family. If they do, you can enjoy them via delivery or carryout, or enjoy them at peak freshness if you dine-in. As with any service, your purchase might be subject to delivery minimums. Starting September 24, if customers buy two or more items from the $5 N' Up Lineup value menu, they will be able to purchase the Cheez-It Pizza for $6, reported Business Insider.
Like Taco Bell's Nacho Cheese Doritos Locos Tacos Supreme, whether the Stuffed Cheez-It Pizzas from Pizza Hut fly off the shelves or flop, no one will soon forget a food combo this interesting. These cheesy babies are only here for a limited time, so grab one at least just to Instagram the moment when Pizza Hut and Cheez-Its made snack history.