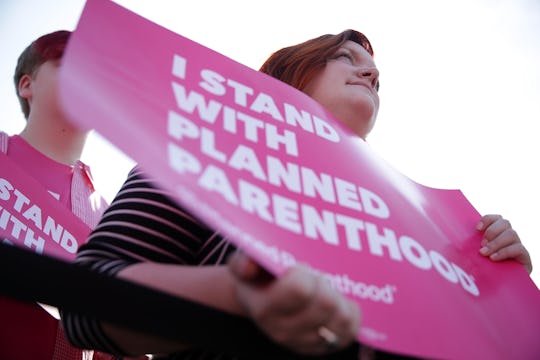 Alex Wong/Getty Images News/Getty Images
Planned Parenthood Alternatives, In Case It Gets Defunded
With Republicans currently in control of the House, Senate, and White House, many Democratic platforms are being tossed aside. From pipelines to travel bans, Republicans have officially taken hold of government regulations and happenings, and are steering the conversation as they see fit. And although the initial Republican health care bill to replace Obamacare was tossed aside recently, due to lack of support, the desire to defund Planned Parenthood still remains intact. As the dismantling of Planned Parenthood is totally possible, it's important to know your alternatives, if you're a patient; Here are a few places that provide maternity care that aren't Planned Parenthood, just in case the worst happens.
As Republicans like to point out, federally qualified health centers, local community clinics, and rural health clinics all offer reproductive and maternal care, but the level varies based on location, among other factors. While there are definitely viable alternatives to Planned Parenthood clinics, it's important to note that many of these other facilities don't take into consideration patients' income, or whether or not they can afford the care that they need (not to mention, many have questioned the facilities' ability to absorb all of Planned Parenthood's patients in general).
Nevertheless, there are other options out there, and with the looming threat of Planned Parenthood being defunded, being aware of these other options is crucial, especially if you already know you'll need prenatal or maternal care in the future.