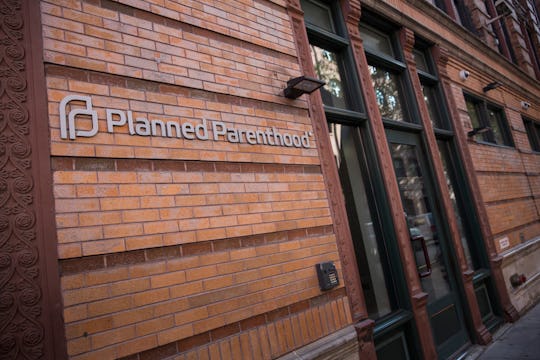 Andrew Burton/Getty Images
Planned Parenthood Is Suing The Center For Medical Progress Over Undercover Videos & It's About Damn Time
In a statement on Thursday, Planned Parenthood announced that it was suing the Center for Medical Progress over a series of undercover videos taken last summer which allegedly showed top Planned Parenthood officials discussing the sale of fetal tissue for profit. It's the first legal action the nonprofit group has taken against the anti-abortion group since the videos first debuted in July. In a tweet on Thursday afternoon, Planned Parenthood called the undercover actors "extremists" and vowed to hold the Center for Medical Progress "accountable" for its alleged actions.
"For months, Planned Parenthood has faced false accusations, beginning with a series of illegally recorded and dishonestly edited videos," Planned Parenthood officials wrote in a petition against CMP this week, referencing what they claimed was a "coordinated series of attacks" meant to "shut down" the organization and prevent women from obtaining adequate reproductive services. "In their single-minded drive to attack Planned Parenthood, they lied, they broke the law, and they put health care access for millions of Americans at risk. Now, we're taking them to court to hold them accountable."
In response, CMP founder David Daleiden told BuzzFeed News that he "look[ed] forward" to the suit. "Game on," he wrote in an email statement. "I look forward to taking the depositions of all the Planned Parenthood CEOs who profited off of their business relationship with StemExpress." Romper has reached out to CMP for comment and is awaiting a response.
According to Planned Parenthood's formal complaint, which was filed in court on Thursday morning, the group has accused CMP of allegedly violating several laws in its recording and dissemination of the videos, which CMP had previously titled the Human Capital Project. Planned Parenthood claimed that the purpose of the Human Capital videos was not to inform the public, but "to demonize ... harass and intimidate its dedicated staff, and interrupt its operations, all with the ultimate goal of interfering with women's access to legal abortion" services, all of which were protected by the landmark 1973 Roe v. Wade Supreme Court decision.
"The people behind the smear videos are responsible for 10 anti-[Planned Parenthood] campaigns in 15 years," the group wrote in a series of tweets on Thursday afternoon. "[Our] lawsuit will show that when CMP couldn't find any improper or illegal activity, they made things up to further an anti-abortion agenda."
Up until Thursday, Planned Parenthood officials had chosen to avoid any direct legal confrontations with the group, opting instead to work with the National Abortion Federation to file for preliminary injunctions barring the group from releasing addition footage. In December, U.S. District Judge William Orrick declared that the footage taken by CMP did not show any illegal activity and issued a temporary restraining order blocking the group from releasing more videos. According to court documents at the time, Orrick reasoned that any additional video footage could potentially put Planned Parenthood employees at risk, citing the Nov. 27 Planned Parenthood clinic shooting in Colorado Springs that left three people dead.
"We've seen an alarming increase in hateful rhetoric and smear campaigns against abortion providers and patients over the last few months," Vicki Cowart, President and CEO of Planned Parenthood Rocky Mountains, said in a statement that month, lamenting the shooting and stopping jut short of pointing the finger at CMP. "That environment breeds acts of violence. Americans reject the hatred and vitriol that fueled this tragedy." In a statement on its Twitter that week, CMP declared that it "condemned the barbaric killing spree", claiming that the tragedy was the work of a "violent madman."
For its part, CMP responded publicly to Thursday's new suit by posting a statement to its official site, claiming that the "investigative" journalists had done nothing wrong and pointing to Planned Parenthood's alleged unlawful behavior instead. "[...] They are filing a frivolous lawsuit in retaliation for CMP's First Amendment investigative journalism that has done nothing more than tell the truth about Planned Parenthood's lawless operations," the group wrote. "This last-ditch move of desperation is going to expose all of the sordid dealings of the California Planned Parenthood affiliates to the light of the legal system and the public will see them for the corrupt abortion and baby body parts profiteers that they really are."
Whether or not either side will succeed in getting their way in this new chapter in the ongoing saga is yet to be determined. What is certain is that the fight over abortion rights won't be going away anytime soon.
Images: Andrew Burton/Getty Images