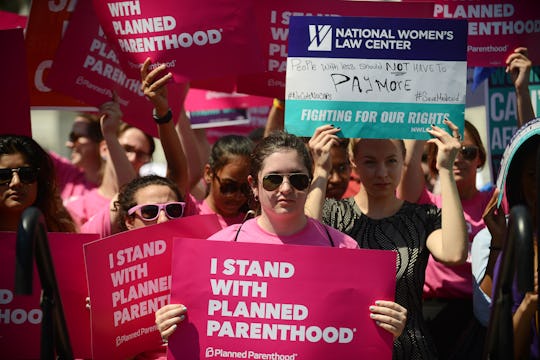 Astrid Riecken/Getty Images News/Getty Images
Planned Parenthood Is Suing The State Of Iowa
Major news broke on Monday when it was revealed that Planned Parenthood is suing the state of Iowa and tackling an issue in the state's abortion procedure requirements. Planned Parenthood of the Heartland, in partnership with the American Civil Liberties Union (ACLU) is accusing the state of Iowa of placing an undue burden on women looking to terminate their pregnancies. The organization claims that the undue burden comes in the form of the state's mandatory three-day waiting period imposed on anyone seeking an abortion procedure.
According to the Kaiser Family Foundation, 27 U.S. states have a prerequisite wait time between abortion counseling and the procedure itself. Iowa is one of only six states — the others being Missouri, North Carolina, Oklahoma, South Dakota, and Utah — with waiting periods lasting three days.
The bill outlining the wait period in Iowa was signed this May by Gov. Terry Branstad. Along with the 72-hour waiting period, the bill also limited the legal window for abortion to 20 weeks. It did stipulate that pregnancies stemming from incest or rape, as well as those that showed signs of fetal anomalies deemed life-threatening, were exempt.
The implications of this law complicate abortion proceedings for women. The law would require a woman looking to terminate a pregnancy to make two separate appointments. First she would visit the office to submit ultrasounds and receive necessary information. Then she would have to wait three days, return, and undergo the procedure itself.
Suzanna de Baca, Planned Parenthood of the Heartland president and CEO, released a statement, in which she explained why the organization is opposed to Iowa's law:
This abortion restriction takes us back decades. It is among the harshest in the nation and will strip access away from the most vulnerable women who need abortion care. This proposed law puts women's health at risk by forcing a woman to have an abortion later in pregnancy and risk her health solely for political — not medical — reasons.
Findings have shown that these waiting periods, especially in states with longer timeframes, don't serve to deter women from undergoing abortion procedures. Instead, they make the process lengthier and more costly.
Iowa's rural nature further complicates the issue, because clinics are often spread out. ACLU-Iowa legal director Rita Bettis spoke about this issue with the Des Moines Register in May, shortly after the ACLU and Planned Parenthood first filed their lawsuit. "Especially in a rural state like Iowa, requiring a three-day waiting period and medically unjustified second visit makes it difficult for women who may have to drive hours to a health center," Bettis said.
This case comes in the wake of another devastating blow to Planned Parenthood of the Heartland. Before leaving his post as governor, Brandstad declined roughly $30 million in federal Medicaid funds to the organization. Without this necessary annual funding, the organization was forced to close four of its 12 clinics. Planned Parenthood is the primary provider of family planning services in Iowa, so these cuts were deep.
Unfortunately, a number of other states with similar waiting periods may also be hurt by the case, as it would act as precedent, but that won't stop either organization from standing up for the cause. Because women's reproductive rights are worth fighting for — whatever the odds.