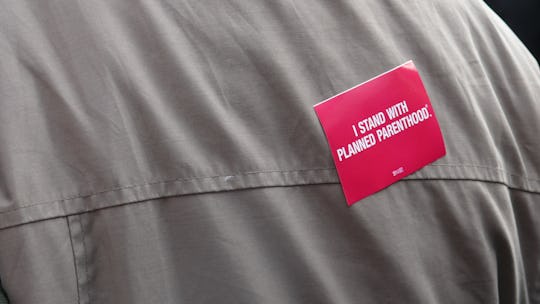 Charlotte Cooper/Flickr
Planned Parenthoods Across The Country Will Be Open Tomorrow, & It Sends A Message To Women Everywhere
Early on Friday morning, a gunman entered a Colorado Springs Planned Parenthood and opened fire inside, killing three individuals — a police officer, and two civilians — and wounding nine others. After an hours-long standoff, police apprehended the suspect, taking him into police custody. (Update: Late Friday authorities identified the suspected gunman as Robert Lewis Dear, 59, from North Carolina. No further details were released.) It's still too early to speculate on what the gunman's motives were and why he chose to open fire at the Planned Parenthood Rocky Mountains, but there is one piece of news already circulating: Planned Parenthoods across the country will be open tomorrow, and it'll be business as usual.
It'd be completely understandable and absolutely justifiable if Planned Parenthoods closed its doors tomorrow — both in Colorado Springs and across the country — to stand in solidarity with the victims and the wounded individuals following the shooting. No one would raise an eyebrow or fault the organization for their choice. But their decision to stay open tomorrow and to provide women with the quality healthcare that they need — and that they deserve — is a message that all women need to hear. In an age where Planned Parenthood has its backs against the wall, the fact that they're able to so proudly continue to provide men and women with the healthcare and reproductive care they need is outstanding. It's amazing. And you don't need to be a pro-life or a pro-choice advocate to feel that way.
In the face of tragedy, it's so easy for life to stand still. In New York after September 11, no one would have blinked an eye in life in New York stood still. In Paris, Parisians were encouraged to stay inside. But they didn't. Life may have slowed, but it didn't stop. And it won't stop for Planned Parenthood, either. Life with go on, care will continue to be given to the individuals who need it, and the staff will put themselves in harm's way day after day because its their job. When it's so easy to stop and stand still, it's amazing to see the capacity of the human heart to go on and move forward.
The National Association for the Repeal of Abortion Laws' tweet read:
In a statement given by NARAL Pro Choice America President Ilyse Hogue, she said:
While violence and arson are far too common at abortion clinics across America, today's events in Colorado are shocking and sad escalation of this violence. Our thoughts and prayers are with all of those affected by this tragic situation. In recent years, we have seen too much dangerous and reckless rhetoric around abortion. It is important that people on all side of the so-called abortion debate denounce this and all acts of violence at clinics and that the federal government call these attacks what they are -- domestic terrorism. Woman of this country should be able to access health care in this without the fear of violence.
Her words were echoed by Karen Middleton, Executive Director of NARAL Pro-Choice Colorado, who added:
Providing women's health care shouldn't be at personal risk of physical and mental harm. Our thoughts and prayers are with our colleagues at Planned Parenthood of the Rocky Mountains, law enforcement, first responders, and all the victims in Colorado Springs. Too many providers and patients in Colorado, a pro-choice state, face harassment and threats of violence on a daily basis. This is not acceptable - it should never be acceptable. We need to call the threats of violence and the intimidation of health care providers and patients what it is -- domestic terrorism. And more public officials in Colorado and across the country, not just advocacy groups and the people on the front lines, need to take a stand opposing domestic terrorism and supporting women's health.
Image: Charlotte Cooper/Flickr