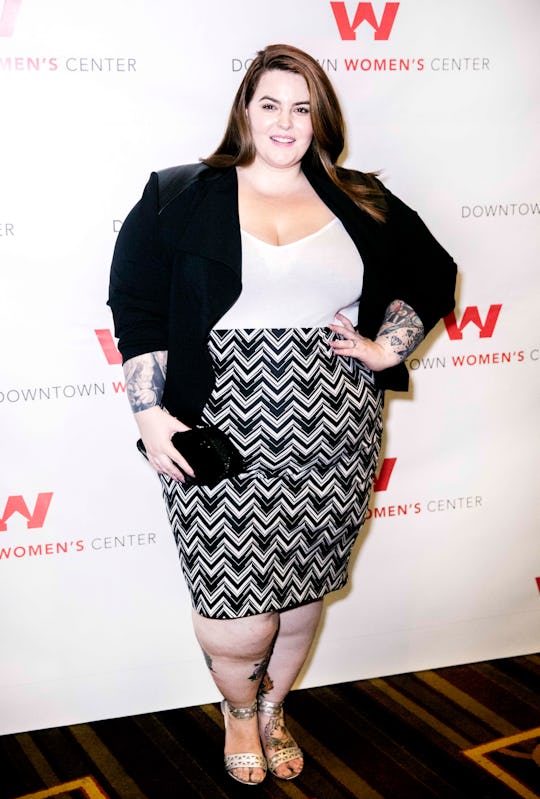 Plus Size Model Tess Holliday Is Pregnant With Her Second Child & She's Excited To Grow Her Family
Someone's Instagram account is about to get a lot more interesting: plus size model Tess Holliday has announced she's pregnant with her second child, according to People. Holliday is engaged to Nick Holliday (she took his name in advance, for career reasons), and has a 10-year-old son, Rylee, from a previous relationship. Holliday and Nick's baby is due in June. Holliday told People she was nervous about having to "relearn" everything after having her last baby a decade ago (that was before they made baby food in pouches!), but Nick is looking forward to blending their family. "I think it really solidifies the two halves of our family coming together," he told People.
If you're not familiar with Holliday, you soon will be. While the typical plus size model is 5' 8" and between a size 8 and 16, Holliday is 5' 5" and 280 pounds, or a size 22, according to ET Online. She's wanted to be a model since she was a kid, but was often told that she was too short or too big. And certainly the tattoos and piercings set her apart from your average living mannequin. But she built up a huge following on Instagram: "more than most models," according to MiLK Model Management owner and director Anna Shillinglan, and she soon caught the eyes of industry leaders. She's now been named a top plus-size model by Vogue Italia, and recently announced a new clothing line with Canadian retailer Penningtons.
While some object to the term "plus size," Holliday says that she and many of her colleagues "happily embrace the term." In a recent interview with Paper Magazine, Holliday said, "I think the whole thing is actually very silly, because the term has never been used in a negative way. It's never been used as hurtful, it's something that's basically just for women to kind of find where they want to shop." She's also OK with the word "fat," she told BuzzFeed. "The reality is I am fat. It's a word. It's an adjective. And I don't care."
Holliday has never been interested in hiding her curves, often posting pics on Instagram in nothing but lingerie. So can we expect to see boudoir belly bump photos in her feed soon? Maybe a plus-sized maternity line? Time will tell. But this is certainly an exciting time for the whole family. "When I had my son, I was 20 and I didn't know what I was doing and I didn't have help," she told People. "I'm really excited to be doing it again and have support, and be able to enjoy having a baby, because I couldn't last time." Congratulations all around!
Image: Mark Davis/Getty Images; Tess Holliday/Instagram