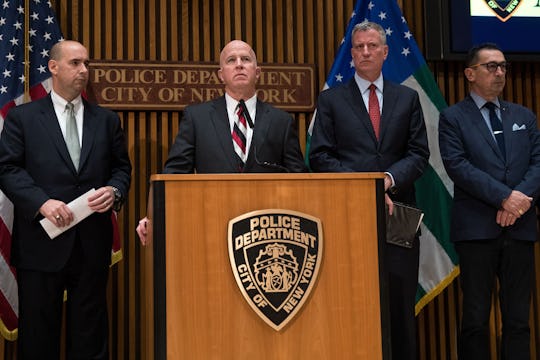 Drew Angerer/Getty Images News/Getty Images
Police Identify Suspect In NYC Explosion, & He Is On The Run, Armed, & Dangerous
On Monday, a spokesperson for the New York Police Department, along with New York City officials, told NBC News that officials have identified the suspect in the New York and New Jersey explosions over the weekend. The suspect's image was captured in a CCTV video of the bombing in New York's Chelsea neighborhood. The suspect is reportedly a 28-year-old man named Ahmad Khan Rahami, a naturalized citizen from Afghanistan who resides in Elizabeth, New Jersey. Authorities have said that Rahami should be considered armed and dangerous. Speaking at a press briefing Monday morning, New York Mayor Bill de Blasio said:
I want to be very clear that this individual could be armed and dangerous. Anyone seeing him should call 911 immediately.
Update: According to officials Monday morning, Rahami was apprehended in Linden, New Jersey on Monday morning.
In the early Monday morning hours, a backpack containing multiple pipe bombs was found at an Elizabeth train station. While in the process of trying to disarm the bombs, a robot triggered a detonation. No one was injured. Authorities have not yet officially said whether the bombings in New York and New Jersey are connected, but the area is on high alert. Many residents in the region received an emergency alert regarding Rahami via a text message on their iPhones. Romper could not reach Rahami for comment.
Rahami is described as a male with brown hair, eyes, and facial hair, standing at approximately 5 feet, 6 inches tall and weighing approximately 200 pounds.
On Saturday, a bomb went off in a Chelsea dumpster located at 23rd Street and 6th Avenue in the bustling neighborhood in Manhattan. 29 people were injured in the explosion. Shortly after, another homemade pressure cooker bomb was discovered at 27th Street and successfully defused as the FBI took the device for investigation. Both areas have a high number of CCTV cameras, which, according to authorities, were used to identify Rahami as a person of interest near the scenes of both the successful and attempted bombings in Chelsea. Officials released more photos of Rahami across social media Monday morning, including stills from surveillance footage and photos of a bald Rahami without any hair or facial hair, and another photo showing him with partially shaven facial hair and a closer cut haircut.
Currently, Rahami's whereabouts are unknown, and it is authorities's top priority to locate him as quickly as possible for questioning about Saturday's bombings in Chelsea. The FBI and New York officials have advised to anyone who sees Rahami to call 911 or the FBI tipline at 1-800-CALL-FBI (1-800-225-5324).