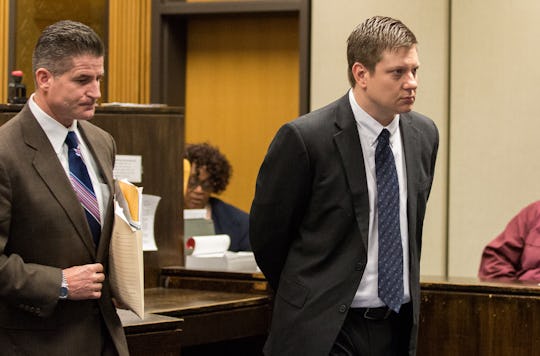 Police Officer Jason Van Dyke Pleads Not Guilty To Murder In 17-Year-Old Laquan McDonald's Death
Over a year after a black, 17-year-old boy was fatally shot, Chicago police officer Jason Van Dyke pleaded not guilty in Laquan McDonald's killing. Van Dyke denied six counts of first-degree murder on Tuesday, the BBC reported. The dash cam video of the McDonald shooting was released on Nov. 24, 2015 and showed that McDonald did not advance towards Van Dyke as previously claimed by police — instead, he walked by on an opposing sidewalk. The teenager also fell after two shots by Van Dyke, but the officer continued to fire another 14 bullets at McDonald, who was on the ground.
As the case continues, further details have emerged about both Van Dyke and the night of the shooting. The charging documents claim that Van Dyke was only on the scene for approximately half a minute before he began firing at McDonald. Officers on the scene before McDonald had already requested tasers, a recording showed, with an officer saying, "Can someone get us a Taser? We're at 40th and Keeler. This guy, ah, kind of walking away, he has a knife in his hand."
After the video of the shooting was released little over a month ago, the outrage online was passionate — and loud. Soon after, Chicago Police Chief Garry McCarthy was fired by Mayor Rahm Emanuel, who has received his own share of backlash. Protestors called for Emanuel to step down, as well, after the mayor repeatedly tried to block public access to the video, claiming it would interrupt ongoing investigations.
This time in court may be Van Dyke's first, but he had had up to 20 citizen complaints filed against him in his 14 years working as a Chicago cop. One man, who claimed Van Dyke had used excessive force against him at a traffic stop, was awarded $350,000 by a jury. At least seven other complaints were on excessive force, two involving firearms, and one involved Van Dyke using racial slurs.
It's a charged time for Chicago, and many protestors are hoping to see Van Dyke behind bars. Since Van Dyke is Chicago's first police officer to be charged with first-degree murder while on duty, it's a landmark case. Currently out on bail (with a bond to the tune of $1.5 million), Van Dyke's next appears in court on Jan. 29.
Image: Zbigniew Bzdak-Pool/Getty Images