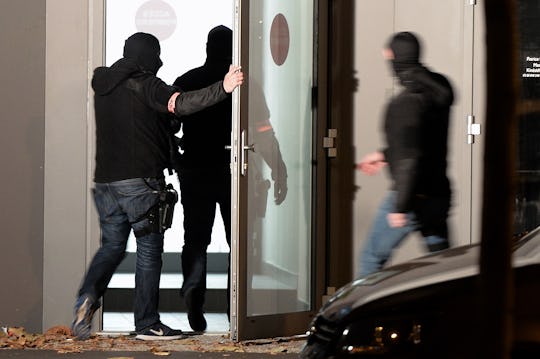 Frederick Florin/Getty Images
Police Raids In St. Denis, Paris End With 7 Arrests, 2 Dead
The investigation into the Nov. 13 Paris attacks took another deadly turn overnight. An early morning police raid in Paris suburb Saint-Denis has led to seven arrests and two deaths, including that of a suicide bomber, according to ABC News. All of the individuals involved were thought to be connected to the alleged mastermind behind the Paris attacks, Abdelhamid Abaaoud.
According to CNN, French authorities have reason to believe that Abaaoud may actually still be in Paris, and not Syria, as originally thought. The raid began at approximately 4:20 a.m. local time, and police made three initial arrests before a woman inside the apartment detonated a suicide belt, similar to those used by the suspects in the attacks. Another suspect was killed by a grenade, according to police, and five others were arrested afterwards, including the individual renting the apartment. Their identities are not yet known, but it has been confirmed that Abaaoud was not in the apartment at the time.
Residents in the area reported hearing explosions and gunfire, and were instructed by police to stay inside with the windows closed. According to ABC News correspondent David Muir, one couple spoke of hiding in their bathroom for hours after the raid began.
According to reports, intelligence gathered from cell phone records and surveillance led police to believe that Abaaoud may have been hiding in one of the apartments in question. Saint-Denis is approximately a mile from the Stade de France, where one of the explosions in Friday's attacks took place.
Witness Amine Guizani told the Associated Press that the explosions and gunfire "[were] continuous...It lasted from 4:20 until 5:30. It was a good hour. I couldn't say how many shots were fired, but it was probably 500. Hundreds, definitely. There were maybe 10 explosions."
Another local resident told Reuters that they, "could see bullets flying and laser beams out of the window. There were explosions. You could feel the whole building shake."
Three police officers and a passerby were injured during the raid, according to reports, and a police dog was also killed. According to unnamed sources, Reuters claims that Wednesday's raid thwarted plans for an attack on Paris's business district, La Defense, by the alleged jihadist cell living in Saint-Denis, though that has yet to be confirmed by police.
Image: Frederick Florin/Getty Images