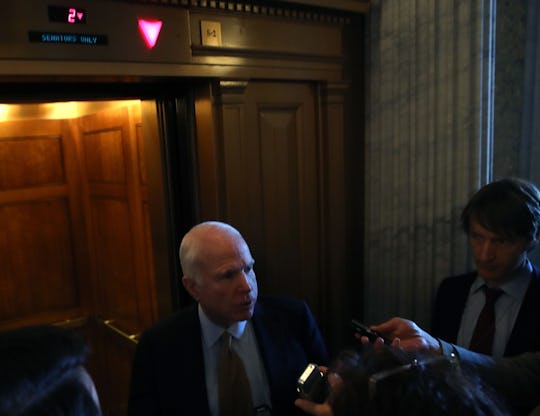 Mark Wilson/Getty Images News/Getty Images
Politicians Send Support To McCain Following Cancer Diagnosis
Politicos and public figures alike were stunned on Wednesday to hear that Arizona Sen. John McCain had been diagnosed with an aggressive form of brain cancer. The tumor, which doctors classified as a primary glioblastoma, was removed last week at Mayo Clinic Hospital in Phoenix, according to CNN. Immediately, reactions to McCain's cancer diagnosis from politicians across the country began pouring in — a strong, unified voice of support from a normally divided nation.
According to CNN, the senator had surgery Friday to remove a blood clot, and it was that surgery that confirmed the brain tumor, which doctors said is associated with the blood clot. Doctors said in a hospital statement, according to The Washington Post:
The Senator and his family are reviewing further treatment options with his Mayo Clinic care team. Treatment options may include a combination of chemotherapy and radiation.
Despite this news, doctors have said the senator, who is 80, is recovering from surgery really well. Still, the news has been incredibly hard for much of Washington. Many of those in office now have worked with McCain for decades. According to his Senate biography, McCain served in the Navy from 1954 to 1981, and for five of those years he was a prisoner of war in Vietnam; then he was elected to the House of Representatives in 1982; and then he was elected to the U.S. Senate in 1986.
McCain's devotion and service to the country are undeniable, and politicians from both parties came together for the first time in a long time to publicly support him and his family. Both former Secretary of State Hillary Clinton, former President Barack Obama, and former President George H.W. Bush issued heartfelt statements:
As did former President Bill Clinton:
Senate Majority Leader Mitch McConnell, a Republican from Kentucky, also released the following statement, according to The Washington Post:
John McCain is a hero to our Conference and a hero to our country. He has never shied from a fight and I know that he will face this challenge with the same extraordinary courage that has characterized his life. The entire Senate family's prayers are with John, Cindy and his family, his staff, and the people of Arizona he represents so well.
We all look forward to seeing this American hero again soon.
President Donald Trump, who questioned whether McCain should be considered a "war hero" during his campaign, issued the following statement, according to ABC News:
Senator John McCain has always been a fighter. Melania and I send our thoughts and prayers to Senator McCain, Cindy, and their entire family. Get well soon.
Touching statements poured in from dozens of senators and representatives (and a former vice president):
Um, well, this is one way to say it:
The well wishes from senators were still rolling in late Wednesday night, which made one thing incredibly clear: McCain's service in the Navy as well as his work in Washington — whether his colleagues agreed with him or not — are a testament to his dedication to improving this country.