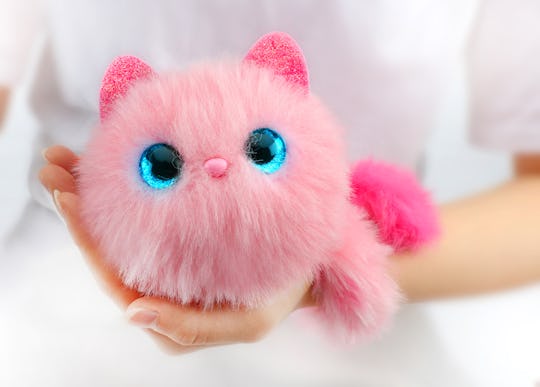 Courtesy of Pomsies
Pomsies Are The Cutest, Cuddliest Toys That Your Kids Will Want To Take Everywhere
If your kids are fans of the adorable, interactive toy trend, then there's a new creature your family will probably take home soon. Pomsies are cute, interactive toys your kids will take everywhere. They're set to become one of the biggest toys of the year, because no one can resist those giant eyes.
Inspired by the pom-pom fashion trend, Pomsies are fluffy toys that can tag along anywhere with your kids. The super-long, wired tail can wrap around your kid's backpack, hair, or wrist, making it a bit of a fashion accessory all on its own. They even make a pretty great neck wrap or hat, so just use your imagination. Pomsies even come with a little brush to keep their fluffy fur looking fresh.
Plus, these cute toys also have some of the interactive features that are so popular in modern toys. Just press their nose to wake them up. When using the Virtual Pet Mode, Pomsies have 50 different reactions and sounds, including purrs. You can feed them by pressing a sensor around the mouth, or pet the head so it can start purring. In addition, their eyes light up in different colors to show when they're happy, hungry, or sleepy. As you take care of your Pomsies, their eyes will even glow in rainbow shades.
Lastly, Pomsies have a Freeze Dance Mode of play that invites your kids' friends to play as well. Just shake your Pomsies to the beat of the music it plays. As the Pomsies review video from The Greers shows, Freeze Dance Mode is pretty upbeat and silly, and it adds a game play aspect to the toy.
The current line of Pomsies feature three different characters, Pinky, Snowball, and Patches, as noted on the Pomsies website. And debuting on July 1, Blossom and Boots are the newest Pomsies in the collection. Boots has a purple and lavender coat, whereas Blossom is all pink. Both are just as adorable as their fellow Pomsies.
Retailing for $15, Pomsies are available for purchase at Walmart. At this time, all of the Pomsies characters are available on their website, so you can go ahead and start your collection now. They do require one AAA battery to work interactively.
Although Pomsies are still some of the newest toys out there, many people are already taken with the cute cat-like creatures. "They are really adorable. The kids are going to love them," said Toy Insider Mom Laurie Schacht on Fox Fort Myers. "This is like the newest, hottest, cutest little kitty toy ever," said Sandra of Sandaroo Kids. It looks like kids (and plenty of grown-ups too) find Pomsies irresistible.
With similar toys selling well, including Fingerlings and Hatchimals, it looks like the cute and interactive Pomsies toys are all set to take on 2018. Basically, these adorable pom-pom cats are right on top of several industry trends. "The toy industry continues to do an incredible job of keeping pace with innovation and trends seen beyond the toy aisle in order to bring kids and families exactly what they are looking for: play that is engaging, enriching, addictive, and fun," said Adrienne Appell, leading trend specialist at The Toy Association. Some of the biggest toy trends for 2018 include interactive digital pets, as well as collectible toys, as further noted by The Toy Assocation. Pomsies fit both of these categories perfectly, and they add in a heavy dose of adorableness as well. In other words? Go ahead and stock up on Pomsies for upcoming birthday and holiday gifts, because these creatures have the potential to become the hottest toy of 2018.