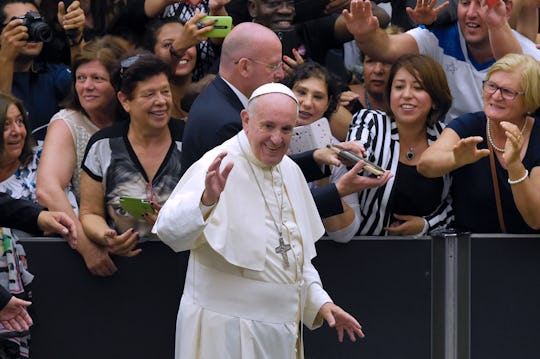 ANDREAS SOLARO/AFP/Getty Images
Pope Francis' Comments About Transgender Children Are Incredibly Sad
There are a lot of things to like about Pope Francis. He's humble, and regularly eschews a lot of the luxury and pomp and circumstance afforded to him. He's long been a champion for the poor, spent his 77th birthday hosting four homeless men at a Vatican mass, and even leaves the Vatican at night, dressed as a normal priest, to meet with homeless individuals. He was once a bouncer at a nightclub in Argentina. And he's also a big deal on social media. It's easy to get excited thinking that Pope Francis might lead the church towards some majorly progressive, inclusive and accepting paradigm shifts in the way it looks at love and human suffering, but every now and then, he'll share a viewpoint that feels totally misguided, like his recent take on being transgender. Pope Francis' comments about transgender children are incredibly sad, and speaks to his lack of understanding about the struggle transgender individuals face.
According to The Washington Post, Pope Francis had a closed-door meeting with a number of Polish bishops last week, and criticized the notion that transgender children should be accepted and encouraged to live according to their identity. A Vatican transcript quoted him as saying,
Today, children are taught this at school: that everyone can choose their own sex. God created man and woman; God created the world like this and we are doing the exact opposite.
He also reportedly called the notion of allowing transgender children to determine their gender "terrible."
The pope has in the past publicly encouraged Catholics to be accepting and inclusive, writing in his 2016 apostolic exhortation "Amoris Laetitia," that "every person regardless of sexual orientation" is deserving of respect, according to The New York Times, and that "every sign of unjust discrimination is to be carefully avoided, particularly any form of aggression and violence." But in the same document, he was clear not to recognize gay marriage as legitimate — and gay marriage and sexual orientation issues are arguably much more widely accepted and understood (and less controversial) than issues around gender identity, especially when it comes to children.
After all, Pope Francis's admonishment last week spoke not only to the fact that he felt that being transgender went against God's plan, but furthermore that it is something that can be taught, or encouraged, in children. But as The Advocate aptly noted,
Most transgender people would likely say their gender isn't chosen — that they know they are innately male or female, even if their body leads others to perceive them as the other gender. (Some, of course, do not identify with a binary gender.)
In a statement to The Advocate, Gay Men's Health Crisis CEO Kelsey Louie said he was "saddened and disturbed" by Pope Francis' comments, and wrote:
Our children deserve to know that of course they have the right to choose, and GMHC applauds all schools that teach students not to oppress who they are, but instead live the life as the gender they most identify with. What we need now is for our world leaders to spread messages of tolerance and acceptance."
Similarly, Catholic LGBT organization DignityUSA issued a statement, according to The Washington Post, and said that Pope Francis' position "puts lives at risk," because it reinforces the notion that being transgender is a choice.
What many, including Pope Francis, do not yet understand is that people do not 'choose' their genders. A gender is assigned at birth, and some people discover that they were incorrectly classified. … It is interesting that until recently, the prevailing belief was that people chose their sexual orientation. Now, even the Catechism of the Catholic Church acknowledges that there are some people 'who experience an exclusive or predominant sexual attraction toward persons of the same sex' and that this is a 'deep-seated' reality. It seems that we will have to undergo the same kind of conversion in our thinking about gender.
But issues over transgender rights isn't at all unique to the Catholic Church, of course. The ongoing debates in the United States about whether transgender individuals should be allowed to use bathrooms according to the gender they identify with has been a hugely-controversial issue, with many arguing that doing so would be result in a rise of sexual assaults and predators in women's bathrooms. In May, President Barack Obama issued a federal directive to schools telling them that the law requires them to allow transgender students to use the bathroom of their identified gender, according to Reuters, arguing that all children should be accommodated according to their needs and treated with respect.
Although Pope Francis' comments are heartbreaking, and further reinforce stigmas and prejudices about transgender people, they are also, sadly, not surprising. Even if he does seem pretty radical at times, he is still the pope. And while the rest of the world can hope for progress, it likely won't happen anytime soon.