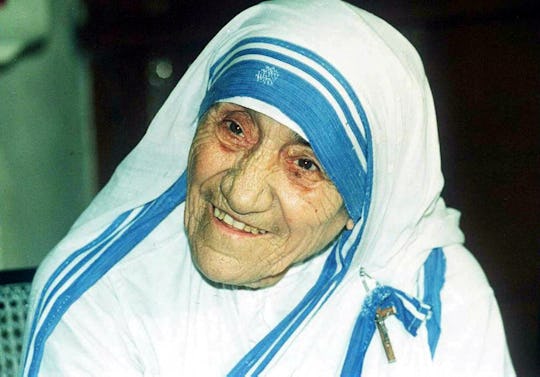 STR/Getty
Pope Francis Is Making Mother Teresa A Saint & Here Are 4 Reasons Why That's Problematic
The Vatican announced Friday that Pope Francis will be making Mother Teresa a saint in 2016, after officially recognizing her second miracle, which is required for canonization, according to the BBC. As a Nobel Peace Prize-winning Roman Catholic nun renowned for her work caring for the sick and poor in the slums of Calcutta, India, Mother Teresa probably seems to most people like an easy choice for saint status. But, look a little deeper into Mother Teresa's work and beliefs, and things get a little murky, at least in my mind.
Former Pope John Paul II began Mother Teresa's process of beatification not long after her death in 1997. On the surface, it's easy to see why: Mother Teresa has long been considered the personification of kindness and selfless service to others. She also left behind a legacy that includes a charity which currently operates almost 20 homes for the sick and needy, as well as schools and hospices.
She's also a pop culture icon, to some extent: people refer to someone who is always doing good as "a Mother Teresa" or often ask what Mother Teresa would do. But by glorifying her and canonizing her, supporters and the Church overlook or condone her fundamentalist beliefs and some very questionable choices. Here are four solid reasons why it's problematic that Mother Teresa is being granted something as high as saint status.