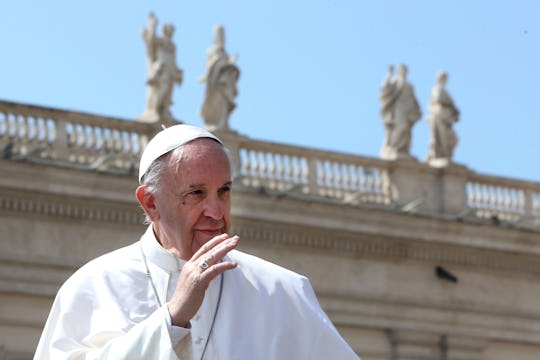 Franco Origlia/Getty Images News/Getty Images
Pope Francis Says Breastfeeding Is The "Language Of Love," Supporting Moms Yet Again
Where and when to breastfeed their babies is something that many moms struggle with. Despite the importance of providing nutrition to their growing babies, a stigma remains around breastfeeding that keeps some from feeling comfortable doing so in public. Showing his support for mothers everywhere, Pope Francis said that breastfeeding is the "language of love," according to HuffPost, and encouraged women to nurse their babies in church.
During an annual baptism service at the Vatican's famous Sistine Chapel on Sunday, where he personally baptized 34 infants, Pope Francis addressed the issue of fussy babies in church services. According to Reuters, he said:
If they start performing a concert (by crying), or if they are uncomfortable or too warm or don't feel at ease or are hungry ... breastfeed them, don't be afraid. Feed them, because this, too, is the language of love.
He also stated that the babies were likely crying because they were in an unfamiliar place or because they were woken up early, or perhaps they heard other infants crying. But there is no shame in having crying babies because "Jesus did just the same," he said, according to Reuters. In fact, he likes to think of his Lord's "first sermon as his crying in the stable." Therefore, mothers should feel free to breastfeed their own children, "just as Mary breastfed Jesus."
The service was in honor of the Feast of the Baptism of the Lord, when Catholics look back to the day that Jesus was baptized in the Jordan River by John the Baptist. This specific service at the Sistine Chapel is for children of employees of the Vatican or the Roman Catholic diocese of Rome. At this year's service, the pope baptized 18 girls and 16 boys. A service for children seems like a very appropriate place to address breastfeeding in church services.
This isn't the first time that Pope Francis has commented on breastfeeding in church. His recent statement echoes many of the same sentiments that he expressed in past ceremonies. Two years ago, when he baptized 33 infants on this day, he included breastfeeding in his homily, saying, "You mothers give your children milk and even now, if they cry because they are hungry, breastfeed them, don't worry," according to Reuters.
Despite Pope Francis' powerful words, churches are not always breastfeeding-friendly places for mothers. Several women, in fact, across the country have faced accusations of indecency and have been asked to leave their churches for opting to breastfeed their babies publicly, according to People. There are existing laws in most states that empower and protect moms to breastfeed their babies in any public or private place without repercussions, but that doesn't stop people from shaming them for doing so. Hopefully, the pope's words will do something to change that in churches.
The World Health Organization announced in August that not a single country in the world provides adequate support for mothers to meet their breastfeeding goals. Both the American Academy of Pediatrics and WHO recommend that mothers exclusively breastfeed for the first six months, but anything from conflicting cultural norms to lack of education keeps many mothers from breastfeeding for the recommended time.
Breastfeeding offers a slew of health benefits for mothers and babies alike, including, for mothers, a lessened risk of certain cancers, Type 2 diabetes, rheumatoid arthritis, and cardiovascular disease, including high blood pressure and high cholesterol. And breastfed babies are more protected against infections as well as Sudden Infant Death Syndrome, Type 2 diabetes, cardiovascular disease as adults, and more.
Considering the obstacles that new moms face in their breastfeeding journeys and the importance of empowering them to make the decision that is best for them, powerful voices like Pope Francis speaking out about normalizing breastfeeding is a huge step in the right direction.
Check out Romper's new video series, Romper's Doula Diaries:
Watch full episodes of Romper's Doula Diaries on Facebook Watch.