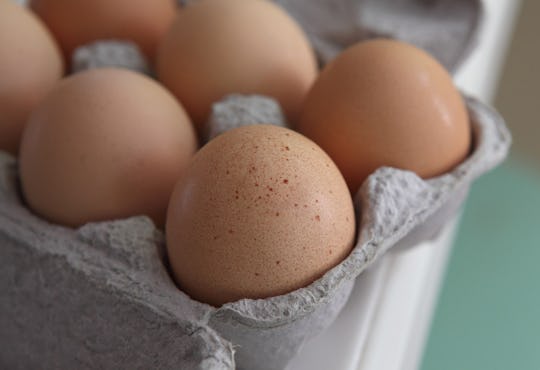 Justin Sullivan/Getty Images News/Getty Images
These Major Grocery Chains Are Recalling Their Eggs, So Check Your Fridge ASAP
In the latest in unfortunate food safety news, several stores are recalling eggs over a salmonella outbreak, which I kind of wish I had known before I made breakfast on Friday. So far, 35 people have reportedly gotten sick in nine different states, so many retailers are being extra cautious and recalling thousands of egg packages just in case. That's a great move on their part, and it's hopefully making a lot of people aware that the problem has gotten worse (people who aren't me, the person who decided to go with the "protein good, sugary cereals bad" option of eggs every morning this week... oops).
A recent Centers for Disease Control and Prevention alert reported an outbreak of salmonella infections linked to Rose Acre Farms shell eggs. The CDC recommended that people not eat, serve, or sell the recalled shell eggs, which might seem like common sense, but the agency also recommended that you should wash and sanitize refrigerator drawers and shelves that previously held recalled eggs as well. The eggs were reportedly sold under many brand names, and the CDC says you should either throw them out or return the eggs if you have some in your fridge that are impacted by the outbreak and recall.
This has been a bad month in general for food recalls. The CDC has also reported 149 illnesses in 29 states thanks to a now fatal E. coli outbreak in romaine lettuce, according to ABC7 News. Basically, if you've been trying to stay healthy by eating lots of eggs and salads, you might want to triple check where the ingredients came from.
Here's the United States Food and Drug Administration's full list of products and retailers that are recalling their eggs out of an abundance of caution:
Country Daybreak
Food Lion
Loose
Nelms
Waffle House
Crystal Farms
Coburn Farms
Sunshine Farms
Glenview
Great Value
Publix Grade
Sunups
XLG Loose Generic
Restricted Eggs
Breaking Stock
Rose Acre Farms
Retailers or brands representing Food Lion, Waffle House, Crystal Farms, Coburn Farms, Glenview, Sunups, Loose Generic, Restricted Eggs, and Breaking Stock eggs on the list didn't immediately respond to Romper's additional request for comment. Romper could not reach Country Daybreak, Loose, or Nelms representatives for comment. Romper also contacted Rose Acre Farms, but did not immediately receive a response.
You should check the plant number and the Julian date on any packages you might have under those brand names before throwing anything away, because it looks like only specific products under each retailer are impacted by the recall.
Great Value brand is sold by Walmart, according to Food Safety News. A Media Relations representative told Romper in an email:
Walmart is committed to providing our customers with safe, high-quality products at our everyday low prices. As soon as we were notified by Rose Acre Farms of the recall, we immediately began the process of alerting our stores to remove the affected product from our store shelves and inventory. We also instituted a register block to prevent the sale of these specific items.
Target was also previously thought to be affected, as its vendor, Rose Acre Farms, has been included in recalls. But a representative for Target told Romper that Rose Acre said eggs sold to Target were not affected. Publix and Food Lion eggs are also included, so if you shop at these nationwide chains, check your eggs ASAP.
A representative for Publix sent the following to Romper via email:
On April 13, 2018, Cal-Maine Foods, Inc. announced the company was notified by Rose Acre Farms of Seymour, Indiana, of a voluntary egg recall. At this time, Publix eggs currently available in our stores are not affected by this recall, as this product would now be out of date based on the sell-by date. Customers who may have purchased these eggs can return the product to their local store for a full refund. The safety and well-being of our customers is our single most important priority, and we will continue to monitor this situation closely and will keep our customers informed. Any additional information or developments will be communicated through our website...
Sunshine Farms, another retailer impacted by the outbreak, declined Romper's request for a statement at this time.
Since the last update about the outbreak back on April 16, 12 more people have gotten sick, according to WSB-TV Atlanta. That means the problem is getting worse, not better, and that there are still likely lots of people out there who are unwittingly holding on to the recalled eggs.
The CDC reported that 11 people have actually been hospitalized due to the outbreak, but that thankfully, no deaths have been reported, and hopefully none will be. That's unlike the romaine lettuce E. coli outbreak, which has killed one person, according to USA Today.
The CDC offered some tips on how to reduce your chances of getting a salmonella infection from eggs in general, but if you have eggs that are definitely affected by the recall, you should just throw them out. Still, if this situation has spooked you and you're worried about ever eating eggs in the future, the CDC recommends buying and using pasteurized eggs and egg products, keeping eggs refrigerated at all times, and discarding cracked or dirty eggs to lower your chances of getting salmonella infection from eggs. They're generally safe if they're handled and consumed safely, this outbreak just happens to be a weird outlier.
If you're like me and you heard vague rumblings of an egg recall a month back, but hadn't kept up on the news, and are now unsure whether the eggs you have in your fridge are safe, the best thing you can do is check out the FDA's list of recalled products and examine any packages of eggs you still have.
No one wants to deal with getting sick thanks to their breakfast, and since there have even been hospitalizations as a result of this outbreak, hoarding eggs that are affected by the outbreak just in case they weren't contaminated with salmonella is not really a chance anyone should take.
Update: Rose Acre Farms told Target that eggs it sold to the chain were not at risk of salmonella contamination, according to a representative for Target. Statements from Walmart and Publix and information on Sunshine Farms were also added.