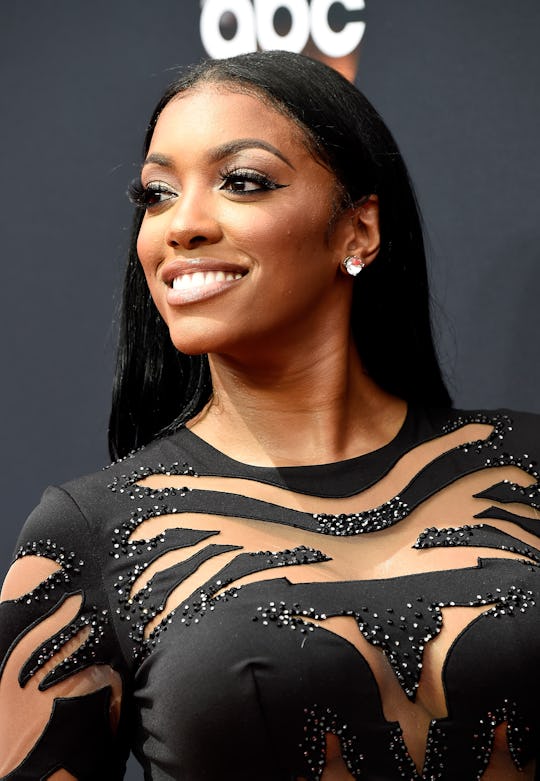 Frazer Harrison/Getty Images Entertainment/Getty Images
Porsha Williams Was Admitted To The Hospital For Gestational Uterine Fibroids
With all of the potential complications that can happen during pregnancy, one in particular tends to fall under the radar: uterine fibroids. However, Porsha Williams was admitted to the hospital for complications due to particularly large growths in her uterus, and here's what all expectant moms should know about them.
On Monday, Nov. 5, Williams was reportedly hospitalized due to complications after discovering a number of large uterine fibroids, according to People. "She is suffering some pregnancy complications due to large fibroids," a close friend reportedly told the magazine. "She was admitted to the hospital and will be staying a little longer than expected. Heartbeat and baby are strong."
On Sunday, Williams' close friend and Real Housewives of Atlanta co-star NeNe Leakes shared a photo of her in the hospital, and asked for prayers for her and the baby. In an interview with Andy Cohen on Watch What Happens Live, Leakes spoke on Williams' condition again, adding: "She's okay. She's going to be fine. She does have to stay overnight. Hopefully she'll be released tomorrow. She's been in a little pain."
For those who aren't familiar, fibroids are unusual, but noncancerous, growths that can occur in any part of the body. In Williams' case, they are growing in her uterus, which isn't uncommon. Healthline reported that 20 to 80 percent of all women develop fibroids at some point before they turn 50, and between 10 and 30 percent of women will deal with them during pregnancy.
Despite the fact that fibroids are typically benign, they do pose a risk to pregnancy as they take up space in the uterus, where the fetus also has to develop and grow. Healthline also reported that, for pregnant women, fibroids can pose a risk in terms of "fetal growth restriction, placental abruption, preterm delivery, unplanned C-section, breech position, or miscarriage."
All of this to say, despite the fact that they are noncancerous, dealing with particularly large fibroids during pregnancy doesn't necessarily mean they won't pose any threat to you or your baby.
So how do you know if you have a fibroid? According to the Mayo Clinic, the typical signs include "heavy menstrual bleeding, menstrual periods lasting more than a week, pelvic pressure or pain, frequent urination, difficulty emptying the bladder, constipation, backache or leg ache." The organization recommends that women seek the care of a medical professional if they notice any of these symptoms, or anything else abnormal.
But as for Williams' case, the Real Housewives of Atlanta star is being particularly careful because she suffered a miscarriage six years prior to her current pregnancy, People reported.
In an interview with the magazine, Williams opened up about how she had mixed feelings going into her current pregnancy, given her past experiences.
"When I found out I was pregnant, I was excited [but] I had mixed feelings. The other feeling that I had beside excitement was fear," she began. "I've had a miscarriage before in my past, which I've also been open about because I suffer with fibroids and had to have a myomectomy... So just the fear of, 'Is the baby going to be okay? Will I make it full term?' All those questions that you ask if you've had a miscarriage before."
It's completely normal to experience fear and anxiety after a miscarriage, especially when you enter a new pregnancy. In fact, Parents reports that it's a very common experience, one that can be mitigated by being mindful, employing a steady support system, and taking it one day at a time.
For Williams, it seems that ensuring that she and her new daughter maintain optimal health is a priority, and rightly so. Fans will have to wait to hear updates from the reality TV star, but surely everyone is hoping for the best for the family.