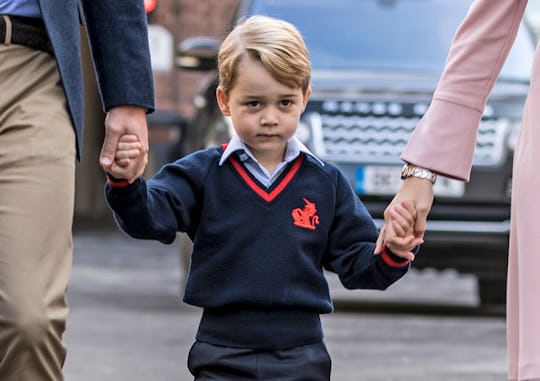 WPA Pool/Getty Images Entertainment/Getty Images
These Portraits Of Prince George Prove He's Ready To Take On All The Big Brother Responsibility
Prince George became a big brother to two when Kate Middleton and Prince William welcomed their third child last week — and portraits of Prince George before the baby news prove that he's ready to take on his new role. The Duchess of Cambridge gave birth to Prince Louis, 8 pounds and 7 ounces, at 11.01 a.m. local time Monday, April 23, according to The Sun, and she and Prince William took him and his older brother and sister home from the Lindo Wing of the Paddington hospital shortly thereafter. Ever since, Prince George seems to be handling his new baby brother with love and excitement, according to Us Weekly.
The royal family headed home shortly after Prince Louis was born. And Prince George and his sister, Princess Charlotte, were eager to meet the new addition.
"George and Charlotte were with the baby for 25 minutes and were very excited to meet their new sibling," a source reportedly told Us Weekly. "They'll be up all night, excited about their new brother."
Prince George, whose full name is George Alexander Louis, was born on July 22, 2013, The Sun reported. It took his parents two days to announce his name, which was likely given as homage to Prince William's great-grandfather King George VI. The name Alexander is thought to pay tribute to the Queen, whose middle name is Alexandra. Two days after George's birth, Kensington Palace shared in a statement that, "The baby will be known as His Royal Highness Prince George of Cambridge."
Prince George has had exactly four years, nine months, and six days since the day he was born to prepare for his new baby brother. And he's had a lot of experiences leading up to now that have gotten him ready to bring his A-game. So let's reminisce on his glory days of being the Prince, shall we?
We know that he gets his style from his dad, Prince William. So Prince Louis has a lot of solid hand-me-downs coming his way. (Does the royal family do hand-me-downs?)
And we also know he gets his great head of hair from his mom, the Duchess of Cambridge whose known for, among more important things of course, her waves. Once Prince Louis grows a head of hair, perhaps Prince George can teach him a thing or two about styling it.
I mean, just look at that side part and appreciate it for a second.
Prince George can often be found coordinating colors with his mother, father, and sister. He's a family man, after all.
And he's also a world traveler. So he's surely got a lot of worldly experiences under his belt and wisdom to bestow upon his little brother.
In fact, the kid's an adventurer. He's often spotted off exploring nature or the playground, with his book bag in tow.
He's got the whole royal wave thing down like a seasoned professional, too, so I'm sure he'll be teaching his brother how to greet the crowds in no time.
In fact, before he took on the role of caring for his little brother just one week ago, he had practicing caring for very well-groomed dogs.
He's also had a lot of practice being a big brother already to his sister, Princess Charlotte, of course. So he's a kid who knows what he's doing.
I'm fairly confident in Prince George's brotherly abilities. Now, if we could get some photos of what he's working with these days, that'd be great. (Prince Louis, show yourself.)