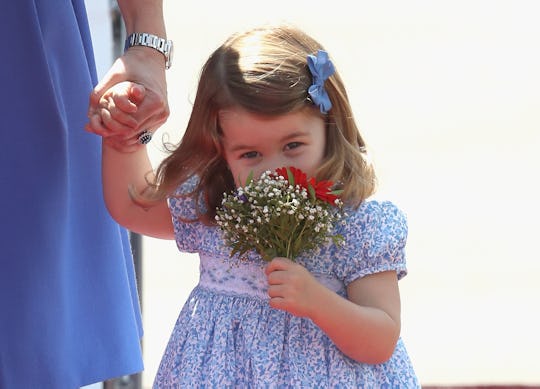 Chris Jackson/Getty Images Entertainment/Getty Images
These Portraits Of Princess Charlotte Over The Years Will Immediately Make You Smile
The royal family has been plenty busy lately. Not only are Prince William and Kate Middleton getting used to being parents to three little royals, but Prince Harry's wedding to Meghan Markle is just around the corner. There's a lot going on. But, there's another important day this month and all of the portraits of Princess Charlotte to date prove that the now 3-year-old definitely celebrated her birthday in style.
In case you missed it (and who could blame you, with all of the goings on taking place across the pond?), Princess Charlotte celebrated her third birthday on Wednesday, May 2. And while much attention has been focused on the birth of Princess Charlotte's younger brother, Prince Louis, it's so fun to look back and remember just how far the young princess has come in just three years.
Indeed, the little royal has led quite an extraordinary life since she was born in 2015, and even though it's unclear how she celebrated her third birthday, it's highly likely that she did so in a fabulous way, surrounded by her family. Of course, the celebrations were probably be a little more low-key, considering just how much the family has going on right now.
But, let's take a look at all the adorable photos of Princess Charlotte because today, May 2, is her day.
The first official photos of little Princess Charlotte are of her being held by her mother while her father stood by. The family was clearly overjoyed, and this first photo of the young princess continued the tradition of Middleton taking to the front steps of the hospital to greet the public. For Princess Charlotte's introduction to the world, Middleton waited just 10 hours after giving birth to leave the hospital, E! News reported.
The next public photos of Princess Charlotte are basically perfect in every way as they feature the princess' older brother, Prince George, getting in some quality bonding time with his new little sister.
"We're delighted to share the first photo of Prince George with his little sister Princess Charlotte," the Kensington Palace Instagram account wrote of the adorable new photo.
Then there was the young royal's christening. According to Princess Charlotte's official website, the little girl was christened at the Church of St Mary Magdalene, Sandringham on July 5, 2015. "Princess Charlotte was baptised at the Lily Font, with water from the River Jordan, by the Archbishop of Canterbury," the website reads.
The Kensington Palace Instagram shared several photos of the happy event, and it's clear that it was an important day for the royal family.
Then, when Princess Charlotte was about 6 months old, the palace shared a couple more portraits of the youngster. And it's clear that, even at 6 months, the young princess already mastered the art of style and grace.
A few days before Christmas 2015, Kensington Palace Instagram posted an adorable photo of the royal family enjoying some time together outside. "The Duke and Duchess are hugely appreciative of all the warm messages they have received about their family this year and are very much looking forward to their first Christmas as a family of four," the palace wrote.
In March, the royal family took their very first vacation as a family of four. Going skiing in the French Alps, the family shared a couple of photos of Charlotte, while also explaining that this trip was the first time either of their children had gotten to play around in the snow.
At an event a few weeks before their vacation, Prince William explained that his two kids were doing well getting along with each other. "Very well," he said, according to The Independent. "No broken bones so far but they are trying — running around and pushing things and jumping."
For Queen Elizabeth II's 90th birthday, Princess Charlotte was featured in a sweet portrait with her great-grandmother, posted on the Kensington Palace Instagram.
Of course, the day before Princess Charlotte's first birthday, Kensington Palace shared several new photos of the baby girl. "The Duke and Duchess are very happy to be able to share these important family moments, ahead of their daughter's first birthday," one of the captions read.
When she was a bit older than 1 year old, Princess Charlotte was also caught cuddling up to a bunny "at a children's party for military families held at Government House," according to Kensington Palace.
As Princess Charlotte has grown, it's become clear that her parents have tried to let her live as much of her life as possible out of the spotlight, which is totally admirable. So, for her second birthday, only one photo of the princess was released.
Princess Charlotte was also spotted with her parents and brother in Poland for a royal tour of the country in July of 2017.
For Christmas 2017, the royal family released a new family photo featuring an adorable young Princess Charlotte standing right under her mother.
In January 2018, Princess Charlotte started nursery school and her mom snapped some adorable photos of the toddler ready to go.
Then, on Wednesday, May 2 of this year, Princess Charlotte turned 3, and Kensington Palace shared another photo from her first day of school photo session to celebrate the big day.
Of course, many pointed out that this photo for the princess' birthday wasn't new, but was taken in January. According to royal expert Penny Junor, an official new photo of the princess could be coming soon, though. "William and Kate won't want to overexpose their children," Junor told Elle UK. "They have never been entirely conventional so I imagine they might release a photo in their own time, and it might be one Kate takes herself."
In the meantime, though, there are so many adorable photos of Princess Charlotte out there to "awww" over while the newly 3-year-old enjoys this special time with her new baby brother. Happy birthday, Princess Charlotte!
Check out Romper's new video series, Bearing The Motherload, where disagreeing parents from different sides of an issue sit down with a mediator and talk about how to support (and not judge) each other's parenting perspectives. New episodes air Mondays on Facebook.