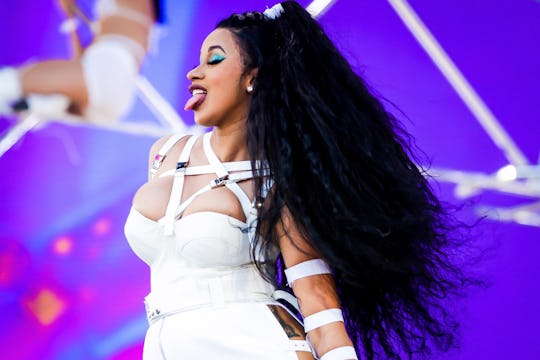 Rich Fury/Getty Images Entertainment/Getty Images
Postpartum Mama Cardi B Would Very Much Like To Have Sex Again
Cardi B is not one to mince words on social media. Throughout her pregnancy, the rapper kept fans updated with delightfully-TMI tweets and Instagram posts about her life. And now that she's a mom, she's still as honest and hilarious as ever. In a recent tweet, Cardi B shared that she is counting the days until she can have sex again after giving birth to her daughter.
Earlier this week, Cardi tweeted a pretty snazzy photo of her husband Offset wearing a cowboy hat. "Hey cowboy, I want to take a ride on your horse," she captioned the shot, followed by a string of goofy-faced emoji. One fan, who I assume wanted to make sure Cardi didn't injure herself, responded to the rapper with a warning. "You probably still gotta finish healing first 😂."
As it turns out, Cardi is very familiar with the recommended wait period regarding having sex after giving birth. She responded: "3 weeks and 4 days Yes bitch I'm counting, wassup!😂😩."
It's no surprise Cardi is counting down the days, considering she had difficulty "riding on her cowboy's horse" at the end of her pregnancy. About a month ago, shortly before she gave birth to baby Kulture, Cardi tweeted: "I wanna have sex but I loose my breath Soo fast 😩😩😩."
Having sex after giving birth comes at a different time for every parent. Laura Fijolek McKain, an OB-GYN, wrote an article for BabyCenter about the matter. She said she generally recommends waiting six weeks before having intercourse, because that's when the postpartum exam typically falls. At the exam, your doctor can make sure your body has healed enough to have sex.
Dr. Shree Chanchani, from NYU Langone Health's Department of Obstetrics and Gynecology, also suggests waiting to have sex until you get the go-ahead from your physician. She told The Cut: "We want to examine the vagina before you start having intercourse to ensure that the stitches have dissolved, and the vagina has returned back to normal." She added that if a new mother wants to have sex before that six-week mark, she should wait until she's at least four weeks postpartum, and schedule an examination with their doctor before having sex. "If it works for my patient to have sex at four weeks, let me just do a checkup to make sure it's okay," Dr. Chanchani also told The Cut.
Cardi B and Offset welcomed their daughter, Kulture Kiari Cephus, on July 10, according to a post she shared on Instagram. Three weeks and 4 days from the day Cardi tweeted her countdown would mean her and Offset's ~big day~ is scheduled for August 25, which is six and a half weeks after she gave birth. Sounds legit to me.
Since giving birth, Cardi has shared several tidbits about baby Kulture with fans. Last week, tweeted: "God i love my baby ❤️❤️❤️Such a innocent beautiful soul."
She also joked that Kulture takes after her dad in terms of crankiness. "When my baby have a attitude i call her Offsishaaa 😩😂," Cardi tweeted last week. "She cranky like her daddy. I'm the sweet one," she added.
When a fan asked Cardi if Kulture looks more like her mom or her dad, Cardi replied: "Idk cause people say she looks like me but all I can see is Hennessy when she was a baby🤷🏽‍♀️," referring to her younger sister Hennessy Carolina. She also added that Kulture also has some of Offset's features.
It's clear that Cardi is already loving #momlife — but she's probably going to love it even more when she's allowed to ride on her cowboy's horse again.