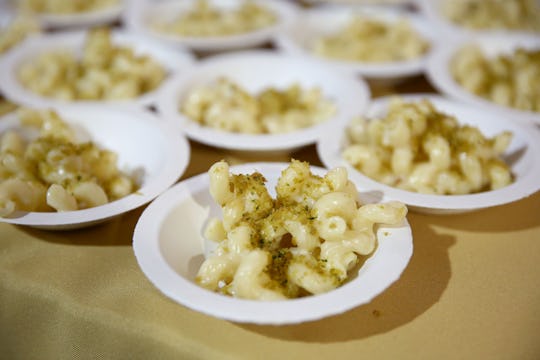 Monica Schipper/Getty Images Entertainment/Getty Images
Powdered Mac & Cheese Could Be Dangerous
At one point in my toddler's young life, he loved macaroni and cheese. Like his mother, he's a picky eater, so when we find something he likes, we stick with it. But he's recently lost his taste for the boxed meal staple, and after reading Thursday's news, I'm glad. It turns out powdered mac and cheese might contain this dangerous ingredient that's been banned from use in baby toys, according to research.
The New York Times reported Thursday on a new study that found phthalates in all but one of the cheese products tested by the Coalition for Safer Food Processing and Packaging. According to the United States Consumer Product Safety Commission (CPSC), phthalates are potentially toxic chemicals used in plastic production, and have been shown to have adverse health effects. The study detected the highest concentrations of the industrial chemical in 10 varieties of powdered macaroni and cheese — four times higher than block cheese and other natural cheese, according to the Times.
What's more, of the 13 types of phthalates tested by researchers, DEHP, DEP, and DBP were the ones found most often in the cheese products. According to CPSC, Congress has banned DEHP and DBP — as well as DBP, another type of phthatates — in children's toys like rubber duckies and baby care items like teething rings and toddler bottles.
Past animal studies have shown that phthalates, which are found in vinyl flooring and building materials, can disrupt reproductive development, particularly for male animals. According to a 2008 National Academies of Sciences, Engineering, and Medicine report, phthalates can potentially lead to decreased sperm count, penis malformation, hormone disruption, undescended testes, and infertility, among other issues with the reproductive system. The New York Times also reported that learning and behavior issues in older children can be caused by exposure to phthalates, which the U.S. Centers for Disease Control and Prevention has found is widespread in the United States.
Heather B. Patisaul, a professor of biological sciences at the Center for Human Health and the Environment at North Carolina State University in Raleigh, told the Times,
If you asked most scientists about the top 10 or 20 endocrine-disrupting chemicals they worry about, phthalates would be on that list.
According to the New York Times, environmental and food safety groups have urged the U.S. Food and Drug Administration to remove all phthalates from food and food packaging, as well as food processing and manufacturing equipment. Phthalates themselves are not intentionally added to food, but are transferred to food from processing equipment and packing materials, the Times noted.
Even though my son no longer eats macaroni and cheese, it doesn't mean my partner and I won't gobble the stuff down. But the next time we do, we're going to make it from scratch.