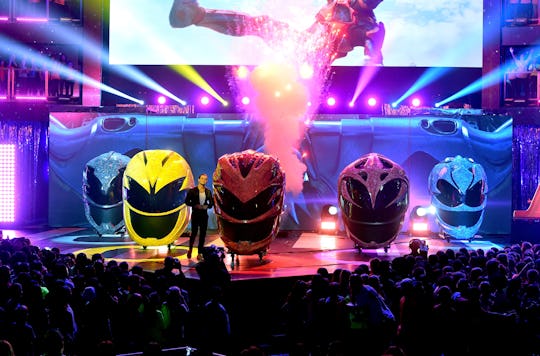 Kevin Winter/Getty Images Entertainment/Getty Images
Meet 'Power Rangers' LGBTQ Character
The trend of updating classic film and television hits is really taking off this year. 2017 has already seen Disney's Beauty and the Beast get a fresh reboot, and now, the childhood favorite Power Rangers is getting a makeover as well. The popular '90s television series will be hitting the big screen later this week, and teens turning into super heroes and saving the world isn't the only reason the film is taking over headlines. According to early reviews, the new Power Rangers features an LGBTQ character, breaking barriers for all future superhero blockbusters.
In a recent interview with The Hollywood Reporter, director Dean Israelite revealed that the yellow Power Ranger character, Trini, was going through a period of "questioning a lot about who she is," including her sexuality. Early reviews of the new movie have also confirmed the moment. In short, Disney's Beauty and the Beast should move on over, because it's no longer alone in revitalizing an old favorite with more representative characters (Disney recently revealed that the Beauty and the Beast character LeFou has an "exclusively gay moment" in the film).
In the new Power Rangers film, Trini, played by Becky G, experiences some relationship issues — something her fellow Rangers come to discover in a way that feels refreshingly honest, especially when it comes to kids and teens figuring out who they are, and who their friends are.
Israelite also told The Hollywood Reporter that Trini's friends all have a moment where they realize that Trini's relationship issues aren't necessarily "boyfriend problems," but may, in fact, be "girlfriend problems":
For Trini, really she's questioning a lot about who she is, she hasn't fully figured it out yet. I think what's great about that scene and what that scene propels for the rest of the movie is, "That's OK." The movie is saying, "That's OK," and all of the kids have to own who they are and find their tribe.
The importance of Trini's sexuality can't be overlooked here. While superhero films have been around for years, diversity hasn't always been their strong suit. But by featuring a teenage character going through a questioning period in terms of her sexuality, Power Rangers is showing its adolescent viewers that it's okay to not know exactly what you want, and that taking the time to figure out who you are is a crucial part of growing up.
And Trini's friends realizing that not everyone has the same sexual preferences is a great example for viewers who might be dealing with the same exact issues in their own friendships. While it hasn't premiered yet, Power Rangers is sure to be a hit, for both longtime fans of the franchise and new viewers alike.