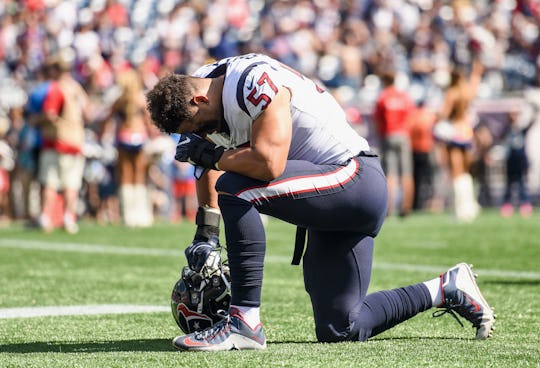 Billie Weiss/Getty Images Sport/Getty Images
Powerful "Take A Knee" Moments From The Weekend That Will Make You Sob
Throughout the weekend, many NFL stars took a knee during the national anthem to protest President Donald Trump's targeted tweets against players who engage in peaceful protest. Although Trump has lashed out at NFL stars before, his decision to refer to any player who chooses to protest as a "son of a b*tch," according to HuffPost, took the "Take a knee" debate to an entire new level of importance. Trump's speech was nothing less than an attack on democracy, and every "take a knee" protest that occurred this weekend was in defense of America's core values. Given what's at stake in the United States right now, these powerful "take a knee" moments will definitely make you sob.
At a rally for Alabama Sen. Luther Strange, Trump made his position on peaceful protests crystal clear when he said, according to CNN:
Wouldn't you love to see one of these NFL owners, when somebody disrespects our flag, to say, 'Get that son of a b*tch off the field right now. Out! He's fired. He's fired!'
If you've been following the "take the knee" protest, you can probably infer that Trump was referencing the informal leader of the movement, Colin Kaepernick, a former San Francisco 49er and voice against racial injustice in America. Although Kaepernick has received plenty of criticism before Trump's speech, this particularly offensive message hit home for many Americans, including those who have no affiliation with the NFL. Besides being totally divisive, Trump's comments were an attack on people of color and their protests to protect themselves and their rights. Trump has never referred to white nationalists as S.O.B.s, right? How interesting...
Although there were plenty of noteworthy "take a knee" moments in response to Trump, these instances were arguably the most moving:
Stevie Wonder Takes "Both Knees" For America
At a festival on Saturday in New York City, Stevie Wonder took a moment out his performance to give a moving speech on the "take a knee" protests. Wonder's message, in which he said he would take "two knees" for America, was as beautiful as it was moving.
Wonder stated, according to the Washington Post:
Tonight, I'm taking a knee for America. But not just one knee; I'm taking both knees. Both knees in prayer for our planet, our future, our leaders of the world and our globe. Amen.
Miami Dolphin's Star Michael Thomas Tears Up
The "take a knee" movement is especially personal to NFL players who have young children. Miami Dolphin's safety Michael Thomas teared up when he discussed how taking a knee relates to his daughter's future. Thomas' emotional message is sure to resonate with all parents. Thomas said, according to HuffPost:
It just amazes me that with everything else going on in this world, especially involving the U.S., that's what you're concerned about, my man? I got a daughter. She's going to have to live in this world. I'm going to do whatever I got to do to make sure she can look at her dad and be like, 'Hey, you did something, you tried to make a change.'
Detroit Lions Anthem Singer Takes A Knee
One of the most emotional "take a knee" moments occurred at the Detroit Lions game on Sunday. The Detroit Lions national anthem singer, Rico LaVelle, took a knee during the final moments of the song. The image of LaVelle's protest is an incredibly poignant one — as LaVelle raises his fist in the air in protest.
Fans Boo Protesting Patriot Players
According to ESPN, 20 Patriots players took a knee during the national anthem. What's moving about the players protest is that their own fans booed their display of solidarity. It takes a lot of conviction to stand your ground when your own fans are taking you to task — it's clear these players care more about their personal convictions than their popularity.
The Miami Dolphins Take A Knee
Some Dolphins players wore t-shirts that read, wore t-shirts that read "#IMWITHKAP," according to the Sun-Sentinel.
John Legend Takes A Knee In Solidarity
In an Instagram post, John Legend shared a picture in solidarity of take a knee. Legend captioned the post, according to Instagram:
#TakeaKnee #DarknessandLightTour #Glory
Aaron Rodgers Comes Out In Support Of "Take A Knee"
Although Aaron Rodgers tends to have conservative views, this past weekend he shared a "take a knee" photo in solidarity with the movement. Rodgers captioned the shot, according to Instagram:
#unity #brotherhood #family #dedication #love
Denver Broncos Take A Knee
Almost all of the Denver Broncos took a knee during the national anthem on Sunday.
Bruce Maxwell Takes A Knee
Bruce Maxwell's decision to take a knee is getting a lot of attention on social media because he's the first MLB player to take a knee during the national anthem. Maxwell is also the son of an Army veteran.
Cheerleader Takes A Knee
A cheerleader named Issa Rai took a knee during the national anthem. Rai said of the moment, according to Twitter: "Proudest & scariest moment as a yellow-jacket happened at the same time. Thank you @kaepernick7 for inspiring to #TakeAKnee to take a stand." The moment is especially notable because Rai is one of the few cheerleaders who took a knee this weekend.
Chiefs' Travis Kelce Takes A Knee
Although Travis Kelce had never taken a knee prior to this weekend, he decided to support his fellow teammates on Sunday. Kelce is receiving a lot of attention on Twitter for backing the protests.
The "take a knee" protests are one of the most powerful movements to come out of 2017. In this challenging time, it's affirming to see so many people take a stand against Trump's assault against democracy.
Watch Romper's new video series, Romper's Doula Diaries:
Check out the entire Romper's Doula Diaries series and other videos on Facebook and the Bustle app across Apple TV, Roku, and Amazon Fire TV.