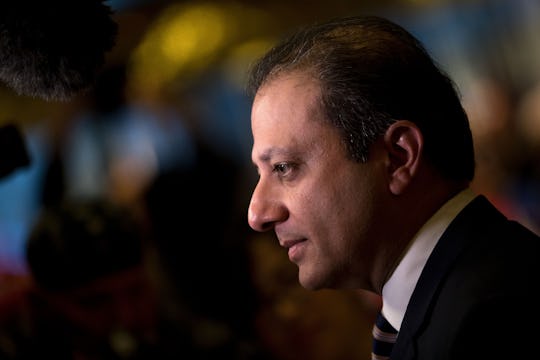 Drew Angerer/Getty Images News/Getty Images
Twitter Is Also Confused By Preet Bharara's Firing
After refusing to stepped down as the New York federal prosecutor, Preet Bharara tweeted on Saturday afternoon that President Donald Trump fired him because he would not resign from the post himself. The 48-year-old high-profile attorney didn't waste any time in letting the world know his side of the story, tweeting: "I did not resign. Moments ago I was fired. Being the US Attorney in SDNY will forever be the greatest honor of my professional life." The news of his abrupt dismissal quickly took over social media and people had a lot to say about what went down between him and the POTUS.
Bharara was ultimately fired after Attorney General Jeff Sessions had reportedly asked him and 46 other U.S. attorneys appointed by President Barack Obama to step down. Although it's not unusual for a new administration with a different political party to request such resignations, this news has some people scratching their heads because Bharara had said that Trump asked him to stay on and serve for his administration back in December, according to The Hill.
"The President-elect asked, presumably because he's a New Yorker and is aware of the great work that our office has done over the past seven years, asked to meet with me to discuss whether or not I'd be prepared to stay on as the United States attorney to do the work as we have done it, independently, without fear or favor, for the last seven years," Bharara told reporters after a meeting with Trump, according to The Washington Post.
Clearly, these vibes didn't last very long.
And with that tweet, Bharara's nearly 8-year tenure came to an abrupt end on Saturday and these tweets highlight just how confusing the whole situation is for everyone involved.
Once the confusion settled a bit, people tried to soften the blow with some humor:
(As a refresher, FBI director James Comey once said that Bharara reminded him of comedian Jon Stewart if he "was a prosecutor," according to The Washington Post.)
Over his career, Bharara has been tough on some of Wall Street's most powerful people and prosecuted at least 17 prominent New York politicians, regardless of the party. According to CNN, he has a reputation as "an aggressive prosecutor in political corruption" and is close to both New York Gov. Andrew Cuomo and New York City Mayor Bill De Blasio.
So even though Bharara's resume bleeds with experience and he was valued by the former administration, Trump's team has clearly decided this prosecutor doesn't mesh well with the others. Whatever the true case may be, people were thrown for a loop.