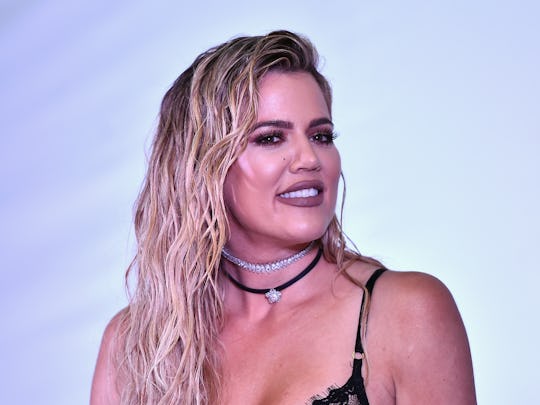 Alberto E. Rodriguez/Getty Images Entertainment/Getty Images
Pregnancy "Clues" From Khloe Kardashian's Instagram That Have Fans Convinced
Another day, another Kardashian story. Every day, it seems like there's some new reason for the Kardashian family to be in the news. Whether it's a story about one of the family members being out and about with paparazzi close behind, or talk of a storyline from their show Keeping Up With the Kardashians, or — like it's been lately — the latest in Kardashian pregnancy news, you can't escape them. Even if you're not particularly a fan of the reality TV show family, they're hard to avoid. And with so much pregnancy news out of the Kardashian camp, they're more in the headlines than ever before. In particular, fans are now on the lookout for pregnancy "clues" from Khloe Kardashian's Instagram, in order to determine whether the Kardashian sister is really pregnant or not.
Back in September, several sources reported that Khloe is allegedly pregnant. This would be her first child with boyfriend Tristan Thompson, according to E! News. (Khloe's representative has not responded to Romper's request for comment.) The news broke just days after PEOPLE reported that her sister, Kylie Jenner, is allegedly pregnant with her first child as well. There were also rumors swirling at the same time that their sister, Kim, was expecting her third child via a surrogate, and those were recently confirmed to be true on KUWTK, according to Cosmopolitan.
But there has been no official confirmation of Khloe or Kylie's pregnancies, in the media or on their hit TV show. Which is why fans of Khloe's are looking to Instagram for hints of a pregnancy that hasn't technically been confirmed.
Take a look for yourself at the images below, and let's break down these clues fans are going on about.
Khloe's Pose
The main "clue" that has Khloe fans talking is the appearance of what they think is a "bump" in an Instagram photo post she made on Oct. 5. Khloe is featured in the black and white photo, posing for her denim line, Good American.
Interestingly enough, Khloé seems to be covering her belly in the main photo that has Kardashian fans curious, at least to some degree. Could that mean that there's a "bump" hidden under her top and the arm covering her belly?
I personally think the way she's posing is just a coincidence, but fans are not so sure. Comments on the photo include things like, "Baby bump?," and "Her baby bump😍😍😍."
Still, other commenters wrote responses like, "damn I really hoped she was/is pregnant. She deserves this!!!," and "There is literally no bump wit are you lot on?"
But let's take a look at the next clue.
Khloe's Outfit
Some people are sure that Khloe chose the top in the above photo that she did in order to hide a possible pregnancy. A shirt in a peplum style, like the one she has on in the photo, could help to do that, but I still don't see it.
Khloé herself responded to several replies on Instagram, according to The Daily Mail. She reportedly wrote, "It's just the way the shirt is designed. In some of the next pictures coming up from the SAME shoot, I'm in a crop top. Showing a lot of skin."
While the saying goes that one picture can say 1,000 words, this one doesn't seem to say much of anything, so hopefully this isn't the only place fans are picking up on clues from Khloe's Instagram account, right?
Another Clue?
Apparently not. On Sunday, Khloe posted three photos to Instagram of her "gorgeous glam girls," who looked like they were helping her with her makeup, and fans swore they could see a little baby bump on Khloe in one of the photos then as well, according to Hello.
It's the second of the three photos that seems to have fans convinced that Khloe is indeed rocking a baby bump. But I still think it might just be the way she's positioned, or her clothing, or even the lighting in the photo.
Kardashian fans clearly see something else, however. A few samples of replies on that photo in particular read, "She's pregnant 👍🏽👍🏽😍😍," and "If you're pregnant you make it look damn good!!! 😍😍👍👍"
So maybe Khloe is pregnant, and I'll find out later that I was wrong and all of these commenters are correct. One thing is for sure — whether Khloe has been dropping hints of a pregnancy in her recent Instagram photos or not, it's certainly got her fans talking, and that's never a bad thing for the Kardashian family.
Watch Romper's new video series, Romper's Doula Diaries:
Check out the entire Romper's Doula Diaries series and other videos on Facebook and the Bustle app across Apple TV, Roku, and Amazon Fire TV.