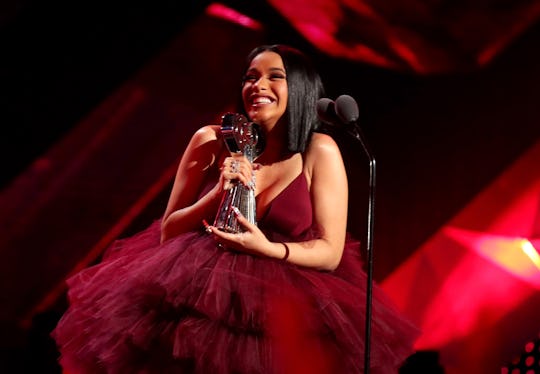 Christopher Polk/Getty Images Entertainment/Getty Images
Pregnant Cardi B Says She "Never Felt So Hungry To Succeed," & Moms Will Totally Relate
As a mom of three, I've learned from experience that no two pregnancies are the same — even for the same woman. When I was pregnant with my first child, I had a ton of energy. (Maybe that's because I wasn't also running around with a toddler while incubating a fetus with my body.) We bought our first house and moved during the second trimester, I was kicking butt left and right at work, and I even kept up with running until the final couple of weeks. But during my second pregnancy? Utter exhaustion and a complete lack of motivation. It's the luck of the draw, I guess. Luckily for one expecting superstar, being with-child seems to have had an energizing effect. That's because pregnant Cardi B says she "never felt so hungry to succeed," and moms will totally relate.
While co-hosting The Tonight Show Starring Jimmy Fallon, the expecting rapper, 25, opened up about how pregnancy has affected her, People reported. Fallon seemed amazed by Cardi B's recent release of her album Invasion of Privacy, completing hosting gigs, doing radio promotions, and keeping up with other demands of her music career — all on top of pregnancy. "How are you even doing it all? How are you functioning?" Fallon asked her. Cardi B proceeded to reply in the most bad-*ss mama way possible. "I don't know if it's the strength of the fetus, but I have never felt so hungry to succeed," she answered, like a warrior heading off to battle. Cardi B later declared:
I'm doing it all until I give birth.
I totally get you, sister. Strangers probably thought I was crazy, but for two-thirds of my pregnancies, I was working out at the gym almost every day on top of working full-time. (Granted, it was a lot easier once I got past the initial phase of morning sickness and exhaustion.) But I never understood why others viewed me as being "too fragile" to complete ordinary tasks. Because I felt so alive.
In preparation for her impending motherhood, Kimmel also had Cardi B read an except from the, ahem, "children's book" Go the F**k to Sleep. And she pretty much nailed it. See for yourself!
During a different segment of the show, Cardi B shared that the original plan was to keep her baby news under wraps until after she gave birth. "I could have gotten away with it, if it wasn't for the meddling paparazzi," she joked with Kimmel. "I was just scared of what people would think and say. I was just freaking out. But I just couldn't ... I was like, well, why not? Why not present it in a beautiful, clean way?
What was this "beautiful, clean way," you ask? After months of speculation, Cardi B officially revealed her pregnancy during an April 7 appearance on Saturday Night Live, E! Online reported. Although the singer had been wearing outfits that hid her bump up until this point, Cardi B let her bump shine front and center — in a a white, skin-tight outfit during her live performance of "Be Careful" on SNL.
Earlier in the show, however, the "Bodak Yellow" rapper was still hiding her bump, with the help of some strategically-placed feathers, E! Online reported. So the effect of the camera panning out to reveal her bump while she was rapping was pretty remarkable.
It seems as if the expecting mom was incredibly relieved that her "secret" was finally out in the open, Us Weekly reported. Because following her SNL performance, she arrived backstage to a round of applause and exclaimed, "I'm finally free!" while triumphantly throwing her arms up in the air.
Although Cardi B allowed her bump to speak for itself, Saturday Night Live pretty much confirmed what everyone already assumed by congratulating the singer after her performance.
Honestly, Cardi B is endlessly fascinating to me — and I can't help but smile during pretty much any of her interviews. I wish the rapper and her fiance Offset (who has three children from previous relationships,) the best as they embark on this crazy journey of parenthood together. And hopefully, Cardi B feels "hungry to succeed" for the duration of her pregnancy and beyond.
Check out Romper's new video series, Bearing The Motherload, where disagreeing parents from different sides of an issue sit down with a mediator and talk about how to support (and not judge) each other's parenting perspectives. New episodes air Mondays on Facebook.