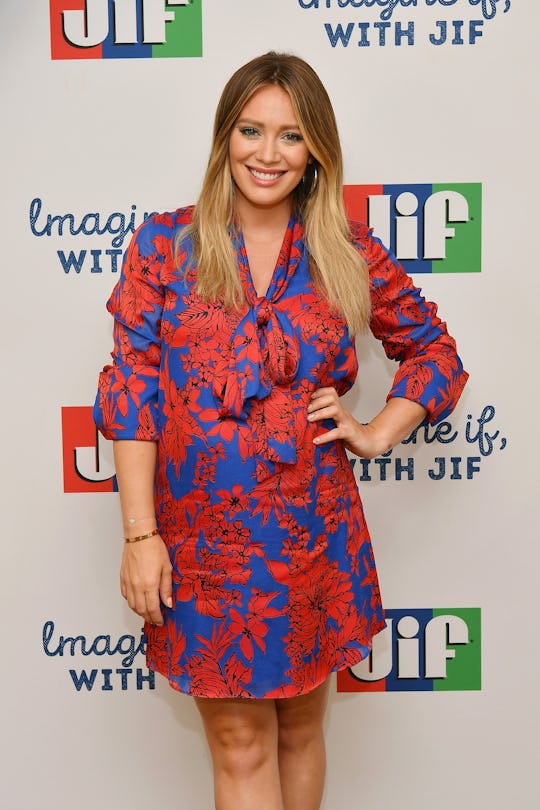 Dia Dipasupil/Getty Images Entertainment/Getty Images
Pregnant Hilary Duff's Video Of Her Dog "Kissing" Her Mouth Had Fans Concerned
When a woman becomes pregnant, it's as if all of a sudden, strangers feel they can police everything about her body. Should she really be drinking that coffee? Are you sure eating that donut is the most nutritious choice for the baby? Is it even safe to lift weights and run while pregnant? Everyone, it seems, is an expert — regardless of the actual risks involved, or whether the expecting mom has already discussed them with her doctor. Recently, pregnant Hilary Duff's Instagram video of her dog licking her mouth had fans concerned. But is it dangerous?
It all started when Duff — who is currently pregnant with her second child — shared a video of her golden retriever licking her lips. She captioned the clips with, "If you don't like dog kisses DONT watch this video! Also leave mean comments in your head TY ✌🏻💋🐶." Of course, some followers went ahead and shared their two cents, despite the specific, "no mean comments" request. Because of course they did. One Instagram follower wrote, "Dats disgusting. Why kiss a Dog anyways plus ur pregnant. u people invited alot of weird illnesses into this world🤮🤮🤮🤮🤮🤮🤮🤮."
Another person commented, "Disgusting for a pregnant woman!Is a baby you have inside and dog kissing have a lot of bacteria!! Even if is a famous dog😔😔."
Yet another follower chimed in with, "Dogs literally lick their bum holes 😣 pretty sure this is how you would transmit worms/parasites 😣 cute dog though 😀."
Another Instagram user shared, "I almost lost my newborn daughter to sepsis thanks to doggy kisses."
Yikes. Bacteria, parasites, and even sepsis? Is this something pregnant women should really be worried about?
As Dr. Sara Swift, an OB-GYN in Green Bay, Wisconsin told People, "Dog kisses really shouldn't pose a huge problem ... The biggest concern with dogs is that they can jump and push you over, however this is not a big issue with most dogs." With that said, dogs do harbor many different types of bacteria. "No one should really make out with a dog … pregnant or not," Swift added. A bigger concern, according to Swift, is pregnant women handling litter boxes because of the risk of toxoplasmosis. According to BabyCenter, toxoplasmosis is an infection you can get from a microscopic parasite. While it typically causes a mild illness in people with healthy immune systems, the parasite is particularly dangerous during pregnancy, as it can potentially infect the placenta and the fetus.
Back in June, Duff revealed via Instagram that she was expecting her second child — a baby girl — and first with boyfriend Matthew Koma, according to Us Weekly. "Guess what guys! @matthewkoma and I made a little princess of our own and we couldn't be more excited!!!!!!," the 30-year-old actress captioned a photo of the couple, with Duff showing off her new bump. Although it's not clear when Duff is due, she's made it a point to keep her Instagram followers updated on the ups and downs of her journey.
I became pregnant with our first child just a few months after my husband and I adopted two kittens; so he became the official poop-scooper right off the bat. (Honestly, it was nice to have a legitimate excuse for avoiding the litter box.) But the whole "dog kisses are dangerous during pregnancy" bit? Never heard of it. Although I would never willingly allow a pet — cat or dog — to lick my lips (because ew), it never would have crossed my mind to be concerned about these "kisses" being particularly dangerous to a pregnant woman. So cringe if you must, Hilary Duff's Instagram followers. But rest assured: These puppy kisses mostly likely aren't affecting her unborn child in slightest.