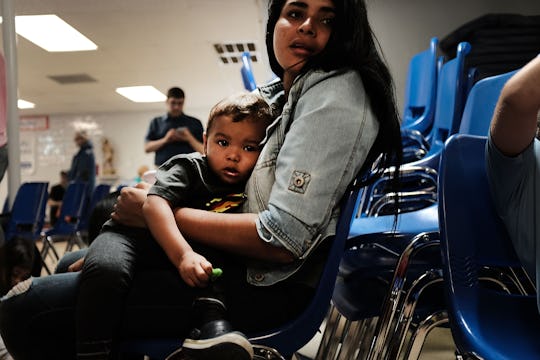 Spencer Platt/Getty Images News/Getty Images
Immigrant Women Claim They Miscarried & Were Denied Proper Care While Detained
For more than a month now, the media spotlight has honed in on the effects of the now-reversed zero tolerance policy for prosecuting illegal immigrants at the U.S.-Mexico border. Whether this involved separating children from their parents without a plan for reunification, or immediately deporting parents without their children, the controversial decisions from the Trump administration on how to approach the immigration problem has received much scrutiny. And now, more disturbing information has come to light in recent days. That's because pregnant immigrant women are allegedly being denied health care when they miscarry in detention. And that is simply unacceptable. Romper has reached out to the Immigration and Customs Enforcement (ICE) for comment, but did not immediately hear back.
Attorney General Jeff Sessions announced the "zero tolerance" immigration policy back in May, NPR reported. Although worldwide outrage has been focused on the policy that consequently separated families at the border, another policy that was introduced five months earlier has been affecting pregnant women seeking asylum in the U.S. As it turns out, pregnant women who aren't yet in their third trimester are being detained and shackled, as reported by the New York Post on Monday, July 9. Before this policy — which was implemented in December 2017 — ICE had been operating under a directive from the Obama administration not to detain pregnant women except in extreme circumstances, BuzzFeed News reported.
Although the practice of actually shackling pregnant women goes against ICE and CBP's most recent standards of care policies, a number of women have come forward claiming that is exactly what happened to them while in federal custody. A detainee referred to as "E" (to protect her identity) recently told BuzzFeed News that two weeks after arriving in the U.S. to seek asylum, she began bleeding heavily and was begging for help from staff at the detention center she was being held. E, 23, had come to the U.S. from El Salvador, and she had hoped to raise her son in a safer place. Unfortunately, she ended up miscarrying while in custody because of the conditions in which she claims she was being kept. "An official arrived and they said it was not a hospital and they weren't doctors. They wouldn't look after me," E told BuzzFeed News. "I realized I was losing my son. It was his life that I was bleeding out. I was staining everything. I spent about eight days just lying down. I couldn't eat, I couldn't do anything. I started crying and crying and crying."
In the heartbreaking interview, she added:
My soul aches that there are many pregnant women coming who could lose their babies like I did and that they will do nothing to help them.
E ultimately gave up her fight for asylum roughly one week after she spoke to BuzzFeed News, and she was deported back to El Salvador.
Another woman named Rubia Mabel Morales Alfaro, 28, told BuzzFeed she had been shoved to the ground by ICE agents while pregnant. "When the doctor examined me, he said there were many reasons for the miscarriage, but it was likely because of the conditions they had me in," Alfaro said, as Newsweek reported. Upon arriving at the border, she claims she was manhandled by agents, despite the fact she informed them she was pregnant. "They didn't believe me. They said it wasn't important, that it wasn't their problem," Alfaro said, according to the interview.
In response to these claims of abuse, ICE has refused to comment on specific cases and instead cited its policy on detaining pregnant women — which is posted on its website. Furthermore, the agency told BuzzFeed that the decision to keep people in custody is on a "case-by-case basis" contingent upon on their criminal records, risk of flight, "any known medical conditions" and whether they are a "potential threat to public safety," the New York Post reported. "All detainees, determined to be pregnant, are provided appropriate education, pre-natal care, and post-natal care," officials said in a statement. "Such care includes referral to a physician specializing in high-risk pregnancies when high risk pregnancy is indicated."
Although it's clear these reports of abused pregnant women — who wound up miscarrying while in custody, either because of how they were allegedly being treated or as a result of allegedly not having access to medical care — go directly against ICE policies, so the idea that it might have happened is simply unacceptable. These women coming forward to tell their stories should be commended for their bravery. We as a nation should work tirelessly to ensure this never happens again to immigrant women under our care.