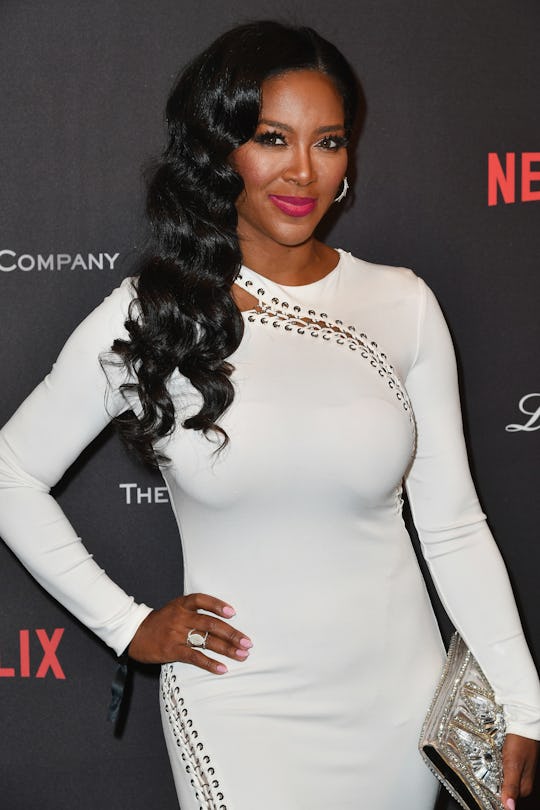 Earl Gibson III/Getty Images Entertainment/Getty Images
Fans Are *Loving* Pregnant Kenya Moore's Ultrasound Video
Real Housewives of Atlanta star Kenya Moore thrilled fans when she announced her pregnancy in April. Moore — who aspired to be a mom for years — shared the happy news during a RHOA reunion taping. And just a few months after the exciting reveal, Moore shared an ultrasound of her baby's heartbeat. Making matters even cuter is that Kenya Moore's reaction to her baby's ultrasound is resonating with soon-to-be moms and fellow parents. In short, people are *loving* Moore's latest pregnancy update.
Fans of RHOA already know that Moore and her husband, restaurant owner Marc Daly, always planned on having kids together. And in a moment of candor, Moore shared that she was open to In vitro fertilization treatments. "Let's just say that we definitely want to have a child," Moore revealed in a December 2017 interview, according to Us Weekly. "I'm not opposed to treatments, so I wouldn't be ashamed of that. Let's just hope in the next year we will see some results from whatever I'm doing."
Luckily for Moore, her results came sooner than later. During the reunion taping for RHOA, Moore divulged to her fellow cast mates that she's expecting. "We will definitely be welcoming a boy or girl in late this year," Moore admitted, according to People. "Oh my God, I said that! I don't want to talk about the details because I'm still very nervous about everything so I want to get past a safe place."
Now that Moore is in a "safe place," she feels comfortable sharing her pregnancy updates with fans. Following the first pic of Moore's pregnancy bump on Sunday, she took to Instagram on Monday to share an early ultrasound of her baby. Moore captioned a video of the ultrasound, according to Instagram:
My heart is overwhelmed by all the kindness and well wishes many of you have sent our family. ***** I felt compelled to share this video of one of our early ultrasounds when I saw my baby's heart beating for the first time. I cried like a baby myself! I couldn't believe this miracle was growing inside me. And its heart was beating so fast! *** Even though my doctor says "Barbie" she meant to say baby. It was too early to tell the gender. *** Again, thank you for the love, prayers, and hope.
Aww — how sweet is Moore's reaction to the ultrasound? I bet a lot of soon-to-be moms can relate to Moore's emotional response in this moment. Additionally, it's so moving to hear Moore's joy and excitement in this video, especially since some people doubted her pregnancy. Yeah, that happened.
The good news is most fans are ecstatic for the mom-to-be, a fact that can be seen all throughout the post's comments section.
"Am so happy for you girl, you deserve all the blessings and happiness in the world," one fan penned, according to Instagram. "My heart is literally overjoyed for you. Congratulations again and God bless."
Another person said:
I am so happy for you Kenya! You so deserve and have wanted this for a long time. That baby will be just as beautiful as you are. Just remember, haters are gonna hate, but the Lord has blessed you with one of the most precious gifts you could imagine. Wait until you feel the baby kick inside your belly..... Most wonderful and beautiful thing I have ever experienced. CONGRATULATIONS BEAUTIFUL LADY.
"Im sooo overjoyed for you," someone else chimed in. "In 44 years old and I'm still holding on to hope to be a mother...I've watched you over the years for your desire to be a mother and I know the struggle...but look at God...you give me hope @thekenyamoore."
Wow, the love for Moore is overwhelming. It's comforting to know that Moore has so many supporters in her corner during this special time.
Hopefully, Moore's pregnancy and her happiness will be featured on the upcoming season of RHOA. It's safe to say many fans would be thrilled to see Moore's journey unfold on camera.