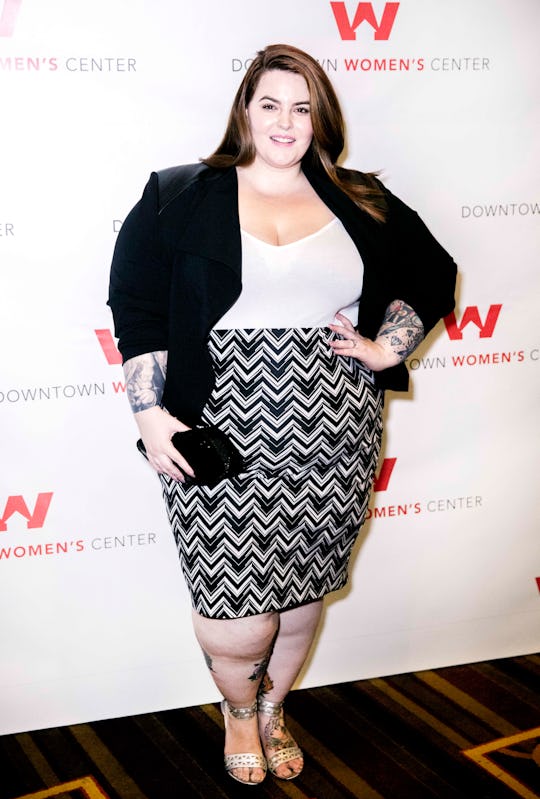 Mark Davis/Getty Images Entertainment/Getty Images
Pregnant Model Tess Holliday Shows Off Her Poolside Baby Bump In The Best Way
Plus-sized model Tess Holliday seems to never be without more than her fair share of haters and criticism, but judging by her latest Instagram photos, it doesn't appear to be getting her down. Now 38 weeks pregnant with her second child, Tess Holliday showed off her poolside baby bump while soaking up the sun in Downtown Los Angeles Monday, reminding her critics that she's a totally happy, healthy mama-to-be who is completely undeserving of their troll-y comments. And while that's always an important message, it stands out even more now, a couple of weeks after an ad featuring Holliday in a bikini was censored by Facebook because it didn't comply with the social networking site's "health and fitness policy," according to The Telegraph.
While Facebook has since backtracked on its decision, thanks in part to the backlash stemming from the decision, it was still a brutal reminder for many about how rampant body discrimination really is — even towards someone as beautiful and successful as Holliday. But with only a little while longer to go before welcoming her new baby, it sounds like, right now, Holliday is much less concerned with Facebook's policies than she is with her soon-to-be baby. In the fun shot, she balanced a plastic cup on her pregnant belly, adding the caption, "showing off my #babybump skills." (Is the built-in bump shelf not the very best part of pregnancy anyway?)
Holliday announced her pregnancy back in January, and shared that she was surprised but excited to be pregnant again (her first child, Rylee, was born ten years ago during a previous relationship, according to People, and she and her fiance hadn't necessarily expected to become pregnant just yet). But she soon had to realize that, despite the happy news, she'd have to begin warding off even more unwelcome commentary about her body as her pregnancy progressed. Around the eight-month mark, she took to Instagram to put the critics in their place, calling out their "uneducated statements" and unfair judgments:
Having another baby has been a beautiful process & at times, frustrating. As I enter my 8th month, my body overall looks the same other than my belly & I'm okay with that. What I've had to be learn to be okay with (WHICH IS NOT COOL) is the fact that people still think it's okay to comment on my body: "you don't look pregnant", "you must be have quadruplets", "you are putting your baby at risk" & a slew of other uneducated statements that are very far from my reality 🙄. When "celebrities" are pregnant in the press, they look glamorous, toned & are eager to talk about how they are going to get the baby weight off. While I've done my best to look as put together as possible, that's not real life, & it's not for most women. I'm not the first plus size woman in the public eye to have a baby & share it with the world, & I certainly won't be the last. However I'm part of a small minority that's telling you it's okay to not have a perfect baby bump, or not show at all, to be plus size & have a healthy child, & most importantly to find a care provider that doesn't shame you about your size.
The shade thrown Holliday's way is majorly disheartening — not just because it's cruel and uninformed, but because her ability to remain confident and fearless about her work proves to countless other women who feel like there is something wrong with their bodies that they don't have to feel ashamed, and that is so valuable. While many of us are fretting about the idea of whether or not our not our bodies are acceptable enough to be shown off in bikinis this summer, Holliday brought her bikini bod to the pool without any apologies, and had an awesome time. And now that she's about to bring another child into the world, it means that one more person will be raised with an amazing example of what it means to live life on your own terms and accepting yourself for who you are, regardless of what anyone else has to say about it.
Tell me again why that's a problem?