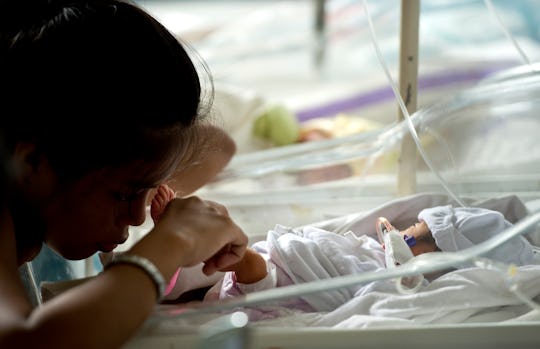 ODD ANDERSEN/AFP/Getty Images
Rural America Is Killing Off Its Maternity Wards One By One
Among developed nations, the United States has the highest rate of women dying during pregnancy, during labor, or soon after delivering a baby — and health experts predict that the rate will rise, especially among women in poor and underserved communities across the United States. Rural communities present a unique challenge, as funding for Medicaid and community health services key to serving those areas remains in jeopardy. A team of investigative reporters from HuffPost and the Carolina Public Press have been examining one often-overlooked issue that could considerably complicate the prospects in those communities: right now, pregnant women have almost no place to give birth in rural America. What's more, according to their research, the number of places for women in rural communities to safely give birth is expected to continue to slide downward in the coming years.
Just how fast prenatal care facilities and maternity wards are disappearing in rural communities is alarming. According to analysis published this week by the Carolina Public Press, between 2004 and 2014, 9 percent of all rural counties lost access to obstetric services in a local hospital. That same report stated that nearly half of all rural counties in the United States are now without a single local hospital where women can get prenatal care and deliver babies.
As one might predict, the reason why so many hospitals and prenatal service providers are disappearing is largely financial. While Medicaid covers nearly half of all pregnancies in the United States, that percentage tends to be even higher in rural communities. And though the public insurance program has proven to be a godsend when it comes to ensuring patients can afford prenatal care, the low reimbursement rates for doctors mean that serving pregnant women is often far more costly for clinics and hospitals in remote areas, the CPP reported.
The outlet also pointed out that the high cost of malpractice insurance has played a role in why so many prenatal providers have closed in remote areas. Family physicians are charged higher premiums if they offer obstetric services, and hospitals get penalized by malpractice insurance providers if their patient volume declines, according to the CPP report.
So what does all of that mean for women in those communities, when it comes to giving birth? Lots of careful timing, driving, and close calls, according to a Scientific American report published earlier this year. That analysis suggested that — with fewer than half of women in rural communities living within 30 minutes of prenatal care, and up to 88 percent living an hour's drive away or more — women in those communities might be more likely to seek a scheduled c-section, especially if other underlying health conditions might mean a quicker or more complicated birth.
Of course, no laboring woman needs the added stress and uncertainty of getting to prenatal care in time. And in an interview, Britta Anderson, a senior research scientist at NORC's Walsh Center for Rural Health Analysis at the University of Chicago, told Scientific American that there's been little research into the potential impact that could have on birth and maternal outcomes. Anderson explained:
We know a lot about the closures and about the workforce challenges, but we don't really know how these things impact women and the health of their infants. We need more data on if women who travel longer distances to get care suffer more negative outcomes — emotionally and physically.
The answer would, of course, be to encourage more OB-GYNs and health facilities to move into those areas. But that takes funding. And (for the time being, at least) the debate in Congress over whether to expand funding for public health coverage seems to be at an impasse. That's concerning, because with as many as one in three rural facilities vulnerable to closure (according to the latest annual Rural Relevance Study), the stakes for pregnant women and their babies in these communities literally couldn't be any higher.
Watch Romper's new video series, Romper's Doula Diaries:
Check out the entire Romper's Doula Diaries series and other videos on Facebook and the Bustle app across Apple TV, Roku, and Amazon Fire TV.