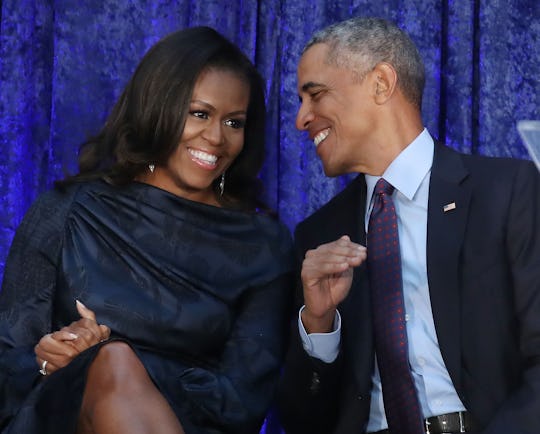 Mark Wilson/Getty Images News/Getty Images
President Barack Obama & Michelle Obama Are Teaming Up With Netflix, & People Are Freaking Out
It's no secret that many Americans miss President Barack Obama and Michelle Obama dearly. Others might refer to it as an intense longing, evidenced by the fact that people tend to *lose it* whenever news surfaces about the pair. As for the latest bit of info that has people freaking out, look no further than the announcement that President Barack Obama and Michelle Obama are collaborating with Netflix to produce a variety of projects, according to The New York Times. Dreams really do come true, people.
Throughout the years, Netflix has made some incredibly smart creative decisions. From the very popular TV series Stranger Things to the compelling documentary, Wild Wild Country, the company is on a winning streak these days. But just when you thought Netflix couldn't any better, the company announced on Monday that Barack and Michelle will join their team. Be still my little heart.
"President Barack Obama and Michelle Obama have entered into a multi-year agreement to produce films and series for Netflix, potentially including scripted series, unscripted series, docu-series, documentaries, and features," the company revealed, according to Twitter. What an incredible piece of news to start the week off, right? The A-Team is back. Praise be.
Of course, many of the Obamas' supporters are beyond thrilled about the announcement.
"So excited to hear about the Obama contract. We are long time Netflix subscribers and can't wait to see what's coming!" a supporter penned.
"Seeing photos of a smiling Barack and Michelle Obama all over my timeline is just the #MondayMotivation I needed," someone said, according to Twitter.
"Barack and Michelle Obama having their own show on Netflix is sure to enrage Trump and delight America. Can't wait to watch it," a fan chimed in.
"@MichelleObama @BarackObama Thrilled to hear you guys are producing shows on Netflix and loving that they will be uplifting stories!!!!" one Twitter user gushed. "Just seeing you two more often will be a gift! Thanks for all you do to make the world a better place."
Others responded with hilarious jokes.
"If somebody hasn't mocked up "Barack n' Michelle and chill" by the end of the afternoon, I'm disappointed in you, @Netflix :) @BarackObama @MichelleObama. 'The Obamas discuss Trump's trial' - works for me, sir & ma'am :)."
"With the Barack and Michelle Obama news, conservatives are saying they will boycott Netflix," another person wrote, according to Twitter. "Conservatives also boycotted The Force Awakens and Hamilton. You know how that turned out So congrats Netflix!!"
"Here for when Barack and Michelle Obama win an Emmy right around when Trump is being impeached," one person joked.
So, what will these movies and TV shows be about? Although it's amusing to imagine Michelle and Barack producing the next Netflix obsession — like Orange Is The New Black or Unbreakable Kimmy Schmidt — the likely scenario is that the duo will work on more serious (and pressing) topics.
Barack explained in a statement, according to The Washington Post:
One of the simple joys of our time in public service was getting to meet so many fascinating people from all walks of life, and to help them share their experiences with a wider audience. That's why Michelle and I are so excited to partner with Netflix — we hope to cultivate and curate the talented, inspiring, creative voices who are able to promote greater empathy and understanding between peoples, and help them share their stories with the entire world.
Yep, sign me up for this. Watching Netflix shows produced by the Obamas seems way more productive than my typical coping mechanism of Googling photos of the couple while having a good cry. I'm ready, Netflix.
On that note, here's to getting through the next few years of President Donald Trump's presidency with some Netflix à la the Obamas. Sometimes it's the small things that keeps you going.