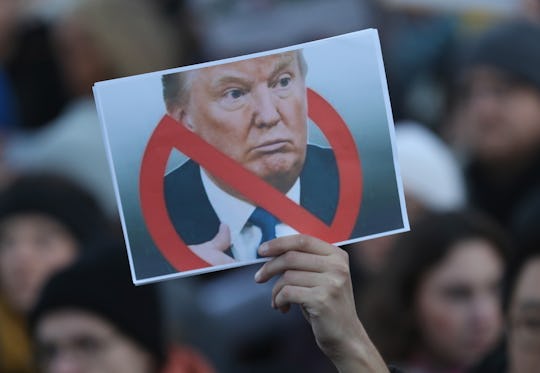 Sean Gallup/Getty Images News/Getty Images
President-Elect Trump's Grudge Against The Media Is A Dangerous One
On the first day that it woke up to the reality that Donald Trump had been voted president, much of the nation plunged into mourning. The next day, Thursday, when Trump met with President Obama at the White House for the first time, neither those members of the electorate devastated by Trump's victory nor those jubilant over it knew where the heck he was. That's because he and his aides had prohibited reporters from traveling with him, a troubling break from tradition that's emblematic both of President-elect Trump's longstanding grudge against the media and an uneasy harbinger of how his administration will treat those dedicated to holding him accountable.
As Trump becomes at once the most powerful and the most criticized person in the world as president of the United States, his disdain for freedom of the press when it's directed at him in incredibly dangerous. This is a man who has used his own raucous campaign rallies as opportunities to encourage actual violence against members of the media he deems "dishonest." He cavalierly bars news organizations, like The Washington Post and Politico, that produce coverage of him he doesn't like from attending his events to cover them.
And just days after winning the presidency, his first tweet as president-elect was to condemn demonstrators who surged onto streets across the country to protest the outcome of the election, and falsely accuse the media at large of inciting them to action:
And he changed his tune hours later, apparently after getting a primer on how the First Amendment works:
Aside from the absurdity of the man's who's about to become the leader of the free world complaining publicly about people being "very unfair" to him, Trump's obvious, proven, and consistent enthusiasm for undercutting the vital role the news media plays in our society and attacking its legitimacy is a major threat to freedom of speech and the open flow of information here and abroad.
Back in February, he announced that he would sue media organizations that produced negative content about him — oftentimes simply by reporting on what he actually said and did — if he were to be elected. At a rally in Fort Worth, Texas, he vocalized his intent to "open up" the country's libel laws so that he could do so:
And believe me, if I become president, oh, do they have problems. They're going to have such problems. And one of the things I'm going to do, and this is only going to make it tougher for me, and I've never said this before, but one of the things I'm going to do if I win — and I hope I do and we're certainly leading — is I'm going to open up our libel laws so when they write purposely negative and horrible and false articles, we can sue them and win lots of money. We're going to open up those libel laws.
Trump, of course, won't have the executive power to abolish that "actual malice" standard that a plaintiff must establish to prove that a news organization did, in fact, libel a public figure. But the makeup of the Supreme Court could shift to more favorably align with Trump's interests (three of the Justices are 78 or older, meaning he could appoint replacements for those who either die or retire, in addition to the one vacant seat he will fill soon after taking office). Still, there's certainly a reason that Suzanne Nossel, the executive director of PEN American Center, told Newsweek that Trump ran "the most distressing campaign in memory, from the perspective of press freedom."
"If the campaign and his past history are any indication, this will be a president who is dismissive of the role of the press," she said. "Accusatory. Punitive in his treatment of journalists. Arbitrary. Secretive when he wants to be."
At the very least, Trump's near-constant threats to sue news organizations could have a chilling effect, as not all publications have the resources of The New York Times, which boldly rebuked Trump when his counsel formally threatened to take legal action in October over a piece that told the stories of two women who allege that Trump had sexually assaulted them. (Trump vehemently denies these and other similar claims, and the lawsuit never actually manifested itself in court.) As such, the fear that a rich, powerful (and incredibly vindictive) man could drive them out of business for printing the truth could be enough to dampen the voices of other outlets, meaning a less free and open society in general.
Further, Trump's refusal to allow the press to even travel with him during his first trip to Washington as president-elect foreshadows a deep secrecy that appears likely to permeate his presidency. "... This decision could leave Americans blind about his whereabouts and well-being in the event of a national crisis," White House Correspondents' Association President Jeff Mason said in a statement, according to ABC News.
When the American people can't expect even the most basic modicum of forthrightness from its leaders, that's an indictment on the administration. It's also further proof that a person who actively fights accountability for his own words and actions at every turn is not fit to be president of the United States.