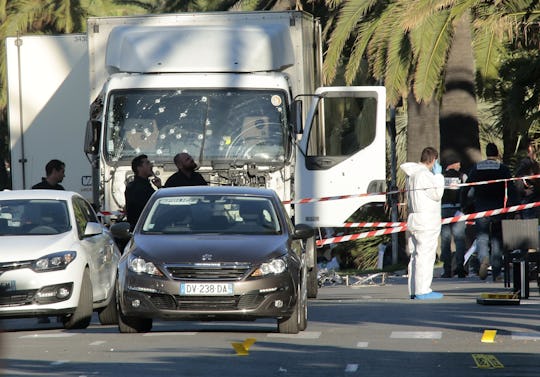 Patrick Aventurier/Getty Images News/Getty Images
President Francois Hollande Responds To The Nice Attack, Calling It An Act Of Terrorism
Once more, France is reeling from a deadly massacre, this time in Nice, France, after a man drove a white panel truck through a crowd of people during a Bastille Day fireworks display in the city late Thursday night. Addressing the press following the tragic and violent incident, which left at least 84 people dead, according to The Guardian, French president Francois Hollande responded to the Nice attack, saying it had "all the elements to be called a terrorist attack."
Referring back to the horrific terrorist attack in Paris in November, Hollande said,
Once again, horror has struck France. In Nice this evening, a truck plowed into the crowd who was there to watch the July 14 fireworks, with the intention of killing, crushing and massacring...This attack has all the elements to be called a terrorist attack, and is once again an act of absolute violence. It is clear that we have to do everything in our power to fight this terrorist plague.
Hollande went on to explain that the man driving the truck had been shot dead by police during his rampage, and that authorities were still trying to determine if he acted alone, had accomplices, and/or any ties to terrorist groups. According to CNN, several outlets have reported that the I.D. found on the driver indicated he was a 31-year-old French-Tunisian man who was a resident of Nice. A source told CNN that the man was known to authorities as a petty criminal, but "was not on the radar" for any terrorist-related activity or ties.
Witnesses of the attack have described a scene of utter shock and horror, as the truck sped into the crowd just as the fireworks show was approaching its end. Habiba Sbai, a Tunisian woman who has been living in Nice for 20 years, told TIME, that she and her husband fled to their apartment near the event for safety following the attack, and that they were shaken and horrified by what they saw:
There were bodies, bodies everywhere. I saw a baby lying dead in front of me. After seeing that, I cannot sleep. I cannot work.
Witness Nader El Shafer told BBC News that at first, he thought the attack was some kind of accident, before he realized that the driver was actually intending to kill as many people as he could:
We thought at the beginning it was just an accident, but then I saw him pulling out his gun and trying to shoot a group of policemen who were coming running towards him. I saw him for about one minute — face to-face — but he was not looking at me. He was looking out of the window, appearing very nervous.
I kept yelling at him, waving with my hand, trying to tell him that there were a lot of dead people underneath his truck. But he did not give any attention to anyone outside the truck. Police killed him straight away — they didn't wait to negotiate —they just opened fire on him.
According to The Telegraph the state of emergency that Hollande had instituted throughout the country following the November terror attacks in Paris was expected to be lifted shortly. In light of the attack in Nice, the state of emergency designation has been extended for at least another three months. Hollande also announced that France would be stepping up military activity in Syria and Iraq, in an effort to further fight against ISIS. Airstrikes in both countries led by France and the United States have been successful at regaining ISIS-controlled territory, though if the Nice attack does indeed turn out to be associated with the terrorist group, it will prove that France is clearly still a very active ISIS target.
According to The Daily Mail, ISIS lost 12 percent of its territory in Iraq and Syria within the first six months of 2016. That means that the group's ability to have a physical area in which to train terrorists, raise money, and generally take up political space has diminished — though the extensive network of radicals around the world continues to be strong. It's likely that, as the group is pushed back and its land re-claimed, the likelihood of terrorist attacks carried out by its members in other countries are more likely to occur. (It is still unclear, however, whether the Nice attack specifically was carried out on behalf of a terrorist group.)
As ISIS struggles to maintain its presence in Syria and Iraq, it seems inevitable that it will instead focus on foreign attacks in an attempt to gain back some power. But Clint Watts, a senior fellow at the Foreign Policy Research Institute (FPRI), wrote in a blog post that terrorist attacks in other countries also serve as a way of attracting further funding for its cause:
The Islamic State's rapid pace of violence may come at a time when they need to find a new home for the brand. Their caliphate revenues and oil production continue to dry up. They will need to shift to illicit schemes and donations to survive. Successful attacks attract investors.
As the world waits to learn more about this tragic, brutal attack, it seems as though France must once again figure out a way to emerge from the horror of terrorism, and figure out how to move forward. And, in the meantime, the rest of the world will stand in solidarity.