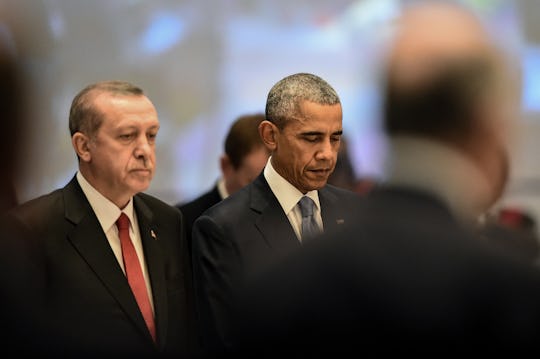 Ozan Kose/Getty Images
President Obama Comments On Paris Again At The G20 Summit, Vowing To "Hunt Down" The Perpetrators
In Antalya, Turkey, Sunday morning, President Obama opened the G20 summit by speaking about Paris for the second time since the Nov. 13 attacks. According to CNN, Obama echoed his first public comments Friday, reiterating more forcefully that those responsible for the coordinated attacks would be "hunted down." Two days after the Paris attacks, which left over 130 dead, 350 wounded, 99 critically injured, President Obama said, "The skies have been darkened by the horrific attacks that took place."
During the two-day G20 summit, President Obama will meet with Turkish President Recep Tayyip Erdoğan, as well as leaders from the United Kingdom, Germany, France, and Italy to further discuss strategies to stop terrorist groups like ISIS from carrying out further attacks. Although President Obama has not scheduled a sit-down with Russian President Vladimir Putin, whose efforts in Syria have forced the administration to retool its strategy for combatting ISIS and other terrorist organizations, an Obama insider told CNN there's "ample time" for the two world leaders to exchange thoughts about recent events.
During his remarks, President Obama spoke just as emphatically about the victims of such senseless violence as he did about capturing the enemy — a sentiment that served to remind the world that the loss of life from these attacks is not to be overshadowed by a desire for revenge, but rather for justice. "The killing of innocent people, based on a twisted ideology is an attack not just on France, not just on Turkey, but it's an attack on the civilized world," Obama said from Turkey. "We stand in solidarity with them in hunting down the perpetrators of this crime and bringing them to justice."
In the coming days, leaders at the G20 plan to discuss issues such as how to use manpower and law enforcement to capture leaders of extremist groups, as well as Intelligence to suss out how exactly terrorists are getting into European countries. One of the major concerns on everyone's mind right now is border control along Turkey and Syria, particularly in light of the refugee crisis. To this point, President Obama released the following statement Sunday morning:
The discussion we had today I think was very helpful in continuing to coordinate the work that we're doing together to help fortify the borders between Syria and Turkey that allowed Daesh to operate.
In press statements, President Obama has been referring to ISIS as Daesh, a term that most Arab states and many European governments use to refer to the Islamic State or ISIS. According to CNN's report of the summit thus far, he and Erdoğan discussed ways to fortify Turkey's border with Syria and a strategy for addressing the refugee crisis. In addition to the Paris massacre, which ISIS, or Daesh, has claimed responsibility for, the recent downing of a Russian airliner over Egypt's Sinai Peninsula, and bombings in Beirut this week, demonstrate that the extremist threat is ever-present.
Susan Rice, President Obama's national security adviser, commented to CNN ahead of the trip that although the G20 summit is a step in the right direction, it's unlikely that world leaders will emerge from the conference with a solution to ending violent extremism. "We're looking to try to use these venues to make incremental progress toward the objective that we all seek," said Rice.
You can watch President Obama's Nov. 13 address to the nation about the Paris attacks.
Image: Ozan Kose/Getty Images