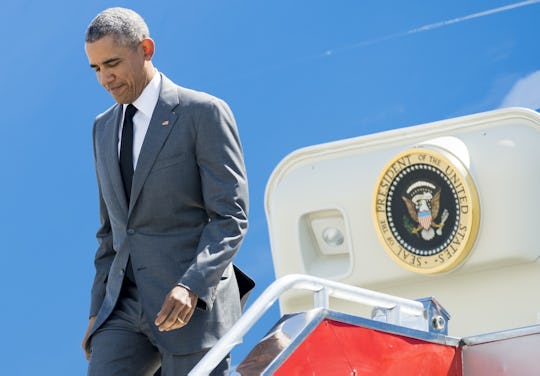 Saul Loeb/Getty Images
President Obama Details Refugee Plan, Saying "Slamming The Door" On Thousands Would Betray American Values
Following the deadly terrorist attacks that claimed over 130 lives in Paris last Friday, a number of high-level state officials have vocally opposed allowing Syrian refugees into the United States. Some have even taken it one step further, like Jeb Bush, who stated this week that America should screen refugees and prioritize those who are Christian. In response, President Obama has made several comments denouncing the idea that the U.S. use a "religious test" or similar tactic for turning away Syrian refugees. And today, President Obama detailed his refugee plan further on Twitter, saying in no uncertain terms that: "Slamming the door in the face of refugees would betray our deepest values."
At the G-20 summit in Turkey Nov. 15 and 16, Obama reiterated his position on this front, underscoring that any sort of religious requirement for refugees to enter the U.S. would be "shameful." He went on to say, "That's not American. That's not who we are. We don't have religious tests to our compassion." Without naming any names, the president criticized various political leaders for even making the suggestion. Obama did, however, note that many of these politicians had personally benefitted from America's historical openness toward refugees. (Which likely was a comment on the fact that Sen. Ted Cruz's own father fled Cuba several decades ago.)
Cruz responded to Obama's comments from the campaign trail in Sun City, South Carolina: "It is one of the saddest things we've seen for seven years, that President Obama has consistently abandoned and alienated our friends and allies and has coddled and appeased our enemies. And that is never more true than with radical Islamic terrorism."
As part of Obama's plan, he's vowed to provide "refuge to at least 10,000 refugees fleeing violence in Syria over the next year." Despite Attorney General Loretta Lynch's assertions that the vetting process for refugees will be "significant and robust," the proposed plan has become a highly charged issue. Opponents are citing national security concerns, while proponents of the plan are invoking a sense of duty to help those embroiled in a brutal civil war. Notably, France, despite the recent attacks, is still planning to take in at least 30,000 refugees in the next two years.
This story is developing...
Image: Saul Loeb/Getty Images