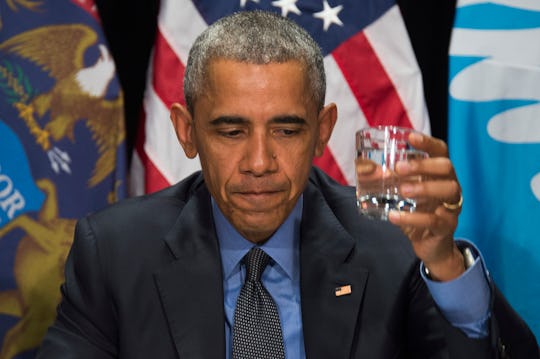 JIM WATSON/AFP/Getty Images
President Obama Drinks Flint Water To Reassure Residents & It Worked — Sort Of
The residents of Flint, Michigan have been in a struggle with their government concerning their drinking water and high contents of lead for some time now — and the problem is only just reached the highest echelons of the political world, at least in a very public way. For 18 months, the water in Flint had been contaminated and was reported to be foul smelling, but according to many residents, local and state officials reportedly refused to act, leading many to become sick or go without clean water for months. Thankfully, due to activists who demanded a response and sudden media attention, things have come around for Flint residents in the past weeks, and water quality is supposedly improving. On Wednesday, during a visit to the town, President Obama himself drank a glass of Flint water to reassure residents that the problem was being addressed.
Obama was in Flint to address the community that the federal government wasn't ignoring the problems at hand and that the highest eyes in government were privy to their situation. Obama then took a sip of the filtered Flint water, insisting residents that they could do the same and that there was no longer a need for them to panic. In a comment to residents, Obama then said,
We can't just sit back and feel panicked and scared. Those emotions are understandable. But if we want to make sure that our kids are properly taken care of, then we've got to be proactive and get out ahead of this thing.
Obama then suggested that he was likely exposed to lead paint as a child as well and that some lead exposure in children wouldn't lead to dire consequences. (It's important to note, however, that the major lead problem still stands, regardless of whether or not Obama is okay as an adult.)
Obama's appearance comes on the heels of a very tension-filled time for the citizens of Flint, who feel betrayed by their government for not catching the problem with the lead contamination sooner. In fact, it was just four months after the city declared a water emergency that the White House announced Obama would be visiting Flint to speak to its residents — but it took the urging of an 8-year-old girl to get him there.
The Obama administration recently released the letter from 8-year-old Amariyanna Copeny, who wrote of how she was one of the many affected by the water in Flint and would love to meet the president to talk to him about it. The President replied that he would meet her in Flint — and he did eventually meet that promise, giving little Amariyanna a hug prior to addressing Flint's residents.
During his address on Wednesday, Obama warned that it would take a while to rebuild Flint's water system — which is getting help thanks in part to an $80 million push in funding by the President — urging citizens to not give up in the meantime. "Don't lose hope," he said.
At the end of his address, the president added that the EPA had recently deemed the filtered water safe for everyone except kids 6 years old or younger and pregnant women.
While there is still a lot that needs to be addressed and a long way to go before Flint's water system is repaired completely, Obama's visit helped to at least temporarily assuage residents, who can now only sit and wait until the next step in the long process is complete.