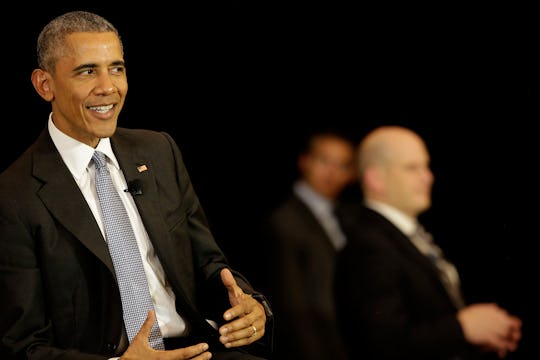 Joshua Lott/Getty Images News/Getty Images
President Obama Opens 'American Idol' & Urges America To Vote Beyond TV
It is time for American Idol to come to an end. After 15 seasons of creating music mega-stars — and some winners that fell into the background, too — Idol is finally saying goodbye. There is no denying that Idol cemented its place in American culture, letting people live out the American dream; taking small town people working on their parent's farms and becoming multi-million dollar recording contracts (I'm talking to you, Carrie Underwood). So, it is no surprise President Obama opens American Idol and urged all of America to vote beyond their TV screens.
The two-hour long broadcast opened up with Obama making a direct address to the American people — but it wasn't on foreign policy or any of the current issues going on in the United States or the world. Nope, it was about saying goodbye to American Idol, which could technically still be a presidential-sized crisis.
While addressing the American Idol audience and viewers at home, Obama had a fantastic message for everyone, starting it out with a lighthearted congratulations to American Idol — as he should, giving it the presidential recognition it deserves.
"Congratulations to American Idol on an incredible 15 season run. This show transformed television, it transformed artists, and captivated audiences across the country — and it taught America what it means to be pitchy," Obama said.
Obama continued to address America, but on a more serious issue and one that the audience of American Idol should be paying attention to during a crucial time in our nation like this.
For over a decade this show has motivated millions of young Americans to vote, often and with enthusiasm. We should do the same in our lives as citizens for this country that we love. Voting is the most fundamental and sacred right for democracy. I believe that it should be just as easy as voting on American Idol, and we're working on that.
Can you imagine? Voting from your iPhone in the comfort of your own home over your morning cup of coffee instead of having to wait in line at your precinct?
All jokes aside, Obama makes a fantastic point. American Idol proved that Americans do have a say in outcomes — they've made small town singers like Kelly Clarkson and Carrie Underwood become huge celebrities all through the power of vote. Obama continued,
When we don't vote we surrender our voice to someone else. Not all of us can sing like Kelly Clarkson but all of our voices matter. This show not only reached historic heights because Americans watched it but because you participated in its success and that is true of America. We reach our potential when all Americans vote.
Obama's message comes with good reason. There have been more votes for American Idol than presidential elections in the years past. The Guardian reports that there were more votes cast in the Season 5 American Idol finale in 2006 than any presidential election, ever. The finale, which set Taylor Hicks against Katherine McPhee, drew out 63 million votes versus the election when Ronald Regan was elected in 1984, which drew 54.5 million votes.
It is the statistics like these that proves America is passionate and they're ready to back people they believe in. With American Idol off the air, lets hope the 2016 presidential election proves that America is still passionate behind something.