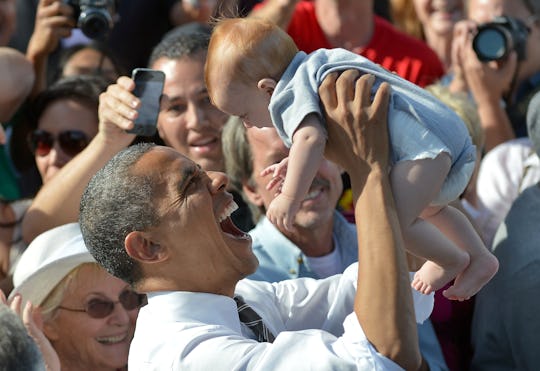 JEWEL SAMAD/AFP/Getty Images
President Obama Proves Once Again He Can Make Any Baby Stop Crying
President Barack Obama's historic visit to the Hiroshima Peace Memorial isn't the only reason his Japan trip is making headlines. The world has already seen how the president works his magic with the kiddos and once again Obama proved he can make any baby stop crying. Obama has a certain skill with babies to turn frowns upside down and after giving a speech on Friday while on his Japan visit he had a chance to show off just how in tune he is with this talent when a woman in the crowd handed him her crying baby.
An adorable crying diapered baby makes his way through the crowd and is handed to the president. Obama bounces the baby on his hip and appears to say a few words to the baby. No longer crying, the baby looks awe-struck and calms down soon after his exchange with the president and is then handed handed back to the woman in the crowd. This baby whisperer moment was captured by Reuters photographer Carlos Barria and the video of the awe-inducing moment was also posted on the Department of Defense's video website.
While he's pretty good at it, Obama's mission in Japan wasn't only to soothe crying babies. On Friday, Obama paid tribute to the victims of the first atomic bomb in Hiroshima, making him the first sitting American president to visit the city that was hit by the nuclear bomb during World War II. He laid a wreath at the bombing site to symbolize the efforts to abolish nuclear arms.
This isn't the first time Obama has been making his rounds and he's encountered a baby he couldn't help but use his magic on. In 2011, an adorable moment happened when a fan gave her crying child to Michelle Obama and the baby continues to hilariously wail away. In a video that captured the moment you can hear Obama say to Michelle, "You better give her back!" Instead, the baby is handed off to the president. He says "Come on, baby. Come on," and the baby immediately stops crying. Obama gives a priceless "I told you so" look to Michelle, shocking the entire crowd with his skill.
It's no secret by now that Obama loves babies and earlier this year in March both Obama and Canadian Prime Minister Justin Trudeau melted at the sight of an adorable little baby in the crowd at the White House. Obama simply picked the baby out of the crowd and the leading men just gushed over his cuteness together.
Love him or hate him, it's pretty clear there's no debate that Obama has certain magical powers with babies around the world. His latest encounter with the diaper-clad baby during Japan visit showed that his side job as baby whisperer simply can't be ignored for too long.