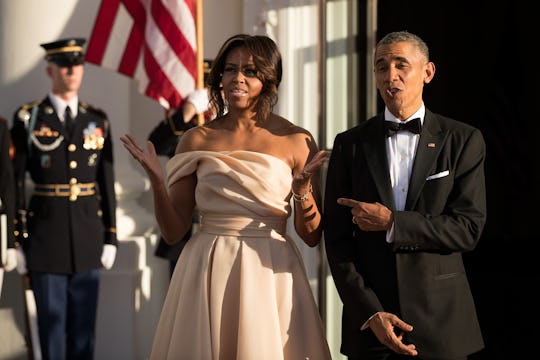 Drew Angerer/Getty Images News/Getty Images
President Obama Responds To Michelle's DNC Speech & Proves That They're #RelationshipGoals
If you were watching the Democratic National Convention on Monday night, there were some high and low points. First Lady Michelle Obama's speech was definitely one of the highest points. Even better, President Obama's response to Michelle's DNC speech made the moment even more emotional and proved that the two are absolute #RelationshipGoals.
Late in the evening, the president tweeted, "Incredible speech by an incredible woman. Couldn't be more proud & our country has been blessed to have her as FLOTUS. I love you, Michelle." I mean, how do you not swoon for that? Whether you love the Obama administration or not, these two are the real deal.
That sort of love was the point of most of Mrs. Obama's speech. She spoke at length about her family and how this election was mostly about deciding who would run the country for the next eight years and what kind of effect it would have on "the children." She pretty much laid down the law against Republican nominee Donald Trump. The speech was also about how America is "the greatest country" already and doesn't need to be "made" into anything else. In a tearjerker moment, she mentioned how she wakes up everyday in a "house made by slaves" and watches her two, black, young daughter play on the White House lawn with their dogs.
Her speech was about progress. While Michelle and the presumptive Democratic nominee, Hillary Clinton have a reportedly strained relationship, the first lady decided to to not talk about her too personally (except to say that she was uber-qualified and dedicated to public service) and carried on the narrative of progress. She spoke to how historic it would be to have a female president, just like it was historic to elect a black man as a leader eight years before.
It was a rousing and beautiful speech. But even more beautiful was her husband's response. That they admire each other so much is something we should all admire. Not even on a political level, but because everyone should be so lucky to have such a strong support system. And seriously, are they cutest power couple ever or what?