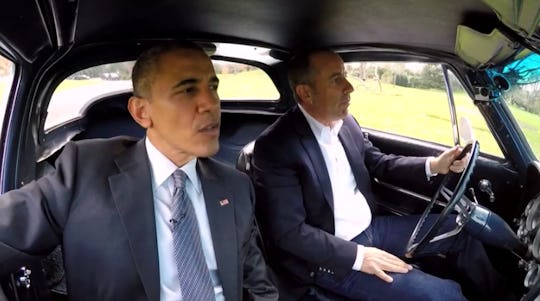 President Obama Rode With Jerry Seinfeld In A Corvette & Talked About His Underwear — VIDEO
President Barack Obama has certainly delivered more hilarious one-liners and off-the-cuff comments than the average commander-in-chief over his two terms in the White House. Comedian Jerry Seinfeld said it was the President's growing comedic resume — and overall cool factor — that made him the perfect candidate to kick off the new season of his popular web series Comedians In Cars Getting Coffee. President Obama and Jerry Seinfeld rode in a Corvette for the episode, and joked about everything from POTUS' guiltiest food pleasures to his underwear drawer. "I always wanted to be in a show about nothing," Obama joked in the season seven opener. "And here I am."
The 20-minute episode, entitled "Just Tell Him You're The President," starts with Seinfeld driving through downtown Washington D.C. in a silver-blue 1963 Corvette Stingray to pick up the world leader. After breezing past White House security, Seinfeld parks just outside the Oval Office and creeps through the bushes to tap on the president's window. Obama looks a little annoyed and tells Seinfeld he has a few things to wrap up before their coffee date. So the comedian does what any normal person would in that situation: he passes the time by sinking into a couch, putting his feet up on a table, and munching on an apple from a nearby bowl — in the Oval Office.
"Are these washed?" Seinfeld asks.
The two start their conversation in Seinfeld's vintage car, chosen by the comedian to mirror the president's cool demeanor. "I thought the coolest car — American made — for the coolest guy ever to hold this office," Seinfeld tells Obama. "You know what," Obama replies, "You're winning a lot of points with me right now."
Normally, Seinfeld and his guests would simply chat in the car while driving to a nearby coffee shop. But White House security makes it pretty clear the pair won't be allowed to leave the White House grounds. Instead, they take a brief spin around the driveway in the Stingray and hop out to examine the President's own ride: a massive black limousine built on a tank frame. "I could call a nuclear submarine right here," Obama says, signaling one of the car's consoles. "I bet you don't have that in your car."
The two finally return to the White House kitchen for coffee and go back and forth about everything from Obama's daily routine (the President believes in shaving before he works out every day), to which former president he'd choose as a hang-out buddy (Teddy Roosevelt would be his pick, btw). At one point, Seinfeld asks a question that other interviewers probably wished they had the nerve to ask a sitting President: can he roam around in his underwear undisturbed? Sadly, the answer seems to be no. Obama responded, "It's not cool, generally, wandering around in my underwear."
And, thanks to Seinfeld, the question of which underwear Obama prefers is also finally settled. Perhaps not surprisingly, the President admitted to being pretty brand loyal:
Seinfeld: If I slid open your underwear drawer, one brand, or a number of brands?
Obama:You gotta go with one brand.
Seinfeld: One color?
Obama: Yeah, of course.
The episode kicks off a season packed with comedic legends including Steve Martin, Garry Shandling, and Will Ferrell. How did the president make the cut? In the opening minutes of the episode, Seinfeld quips that the world leader has delivered "just enough funny lines to qualify for this show." The show then cuts to a joke Obama made about Dick Cheney during a White House Correspondents' Dinner.
Not only has Obama proven to be a decent hand at delivering one-liners, embracing nontraditional media has been a tactic Obama has used throughout his presidency. And his appearances have been pretty impressive — even brave. In recent months, Obama has made the rounds on a few unconventional shows, including Running Wild with Bear Grylls and Marc Maron's WTF podcast.
But while he might be brave enough to keep up with Bear Grylls, there are some forces that even Obama doesn't argue with. Towards the end of the Comedians In Cars episode, the pair tries to get off the White House grounds a second time. Obama drives the 1963 Stingray up to the White House gate and tries to persuade the guard to let him and Seinfeld out for a drive:
Obama: Hey Darryl, can you open this up?
Guard:I'm sorry, sir. I can't allow that.
Obama to Seinfeld: I knew that wouldn't work.
Seinfeld: You didn't sell it.
Oh well, Mr. President. Maybe next time.
The full video of the hilarious conversation between Seinfeld and Obama is available online at ComediansInCarsGettingCoffee.com.
Images: BlackTree TV/YouTube (