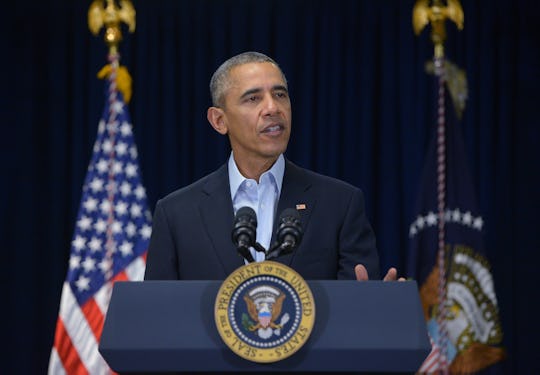 Mandel Ngan/Getty Images News
President Obama Said Republicans Who Refuse His SCOTUS Nominee Aren't Doing Their Jobs
After days of silence, President Barack Obama discussed his plans to nominate a successor for Justice Antonin Scalia, who died Saturday of natural causes. At the ASEAN conference in Sunnylands, California, on Tuesday, Obama took reporters' questions about candidate qualifications and strategies for combatting Republican opposition. The takeaway: Obama said Republicans who block his Supreme Court nominee wouldn't be doing their jobs and that he intends to do his job as president until next January.
Obama started off by expressing condolences following Scalia's death. He expressed the importance of respecting Scalia's family by allowing a period of mourning separate from political angling, according to live footage of the press conference:
First of all, I want to reiterate heartfelt condolences to the Scalia family. Obviously, Justice Scalia and I had different political orientations and probably would have disagreed on the outcome of certain cases, but there's no doubt that he was a giant on the Supreme Court who helped to shape the legal landscape. He was by all accounts a good friend and loved his family deeply, so it's important before we rush into all the politics of all this to take stock of someone who made enormous contributions to the United States.
Obama then said that the Constitution is clear about the procedure following a Supreme Court justice's death, requiring the president to make a nomination and the Senate to evaluate the nominee. He said "there's no unwritten law" about when this is permitted to take place within a president's term, adding that he's "amused" by firm adherents to the Constitution who suggest provisions exist to keep him from making a nomination. When it comes to qualifications, Obama said he is looking for someone with an "outstanding legal mind" who "cares about democracy and rule of law." He added that the person he nominates will be "indisputably qualified" and "would serve with honor and integrity on the court."
During the press conference, Obama addressed the obstructionist nature of Washington politics. He admitted that he understands the pressures facing Republican candidates to serve their party, but he criticized their tendency to allow political leanings to disrupt the everyday operation of government:
The fact that it's that hard, that we're even discussing this, I think is a measure of how unfortunately the venom and rancor in Washington has prevented us from getting basic work done. Now this would be a good moment for us to rise above that.
Obama said that he is not necessarily intending to appoint a moderate candidate. and he became a little sassy when a reporter said that he might do so. Instead, Obama challenged all politicians who claim to support the ideals of the Founding Fathers to come up with any good, Constitutionally-based explanation for blocking an appointment. He also called for a commitment to higher standards when it comes to the Supreme Court:
This is the Supreme Court. The highest court in the land. It's the one court where we would expect elected officials to rise above day-to-day politics. And this'll be the opportunity for senators to do their job. You're job doesn't stop until you're voted out or until your term expires. I intend to do my job between now and January 20 of 2017. I expect them to do their job as well.
Basically, Obama just dropped the mic.