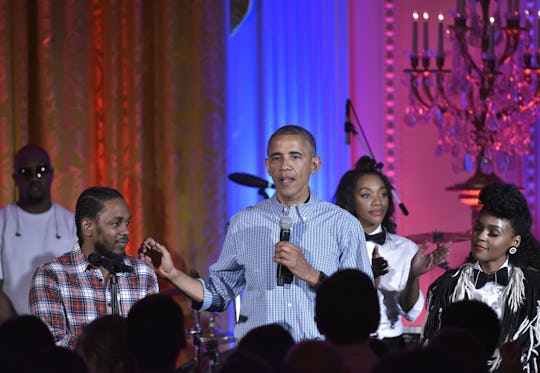 MANDEL NGAN/AFP/Getty Images
President Obama Sang Happy Birthday To Malia With Kendrick Lamar, Because He's That Cool
Wrapping up his hosting duties at his final White House Independence Day barbecue, President Obama sang "Happy Birthday" to Malia, his eldest daughter, with the help of Kendrick Lamar and Janelle Monáe, because he is the coolest dad ever. Rolling Stone reported that this wasn't the first White House visit for either recording artist; Lamar met with the president in January to discuss the Pay It Forward mentoring initiative, and Monáe was one of several recording artists to meet with Obama in April regarding criminal justice reform.
"Because it's a job of a father to embarrass his daughters, I've got one last job," the president remarked at the close of the event, which celebrates veterans. "It just so happens that we celebrate our country's birthday on the same day that we celebrate my oldest daughter's birthday. So, just a quick 'Happy Birthday' for Malia," announced, before breaking into song. The serenader-in-chief sounded a bit hoarse during his rendition, but he was quickly backed up by the rapper and singer, as well as the rest of the crowd. Malia rushed up to the stage to give her father a hug, capping off a sweet scene on the First Daughter's 18th birthday. She doesn't look too embarrassed to me!
This isn't the first time we've heard Obama sing; the president famously teased the opening line of Al Green's "Let's Stay Together" at the Apollo Theater in 2012, and he's been known to slow jam the news with Jimmy Fallon on The Tonight Show more than once. Perhaps the only president more musical than Obama was Bill Clinton, who set a new precedent for politicians when he visited The Arsenio Hall Show during his presidential campaign in 1992 and treated America to his impressive saxophone skills. Ever since then, the lines between politics and pop culture have become somewhat blurred.
The combination of a Fourth of July birthday and a dad who's president has resulted in a number of eventful birthdays for Malia. The Daily Mail reported that she celebrated her 16th birthday with a Pitbull performance, and was gifted with a new car. In 2009, The Chicago Tribune reported that Malia's 11th birthday, her first after her dad took office, was also the first birthday since 2006 that she hadn't spent in a hotel. For that birthday, she reportedly took over Camp David for a slumber party with over 20 guests. Not too shabby. This was the last birthday that Malia will celebrate in the White House (assuming she doesn't take office herself someday), and it looks like, once again, it was pretty epic. Here's hoping she thanked her dad.