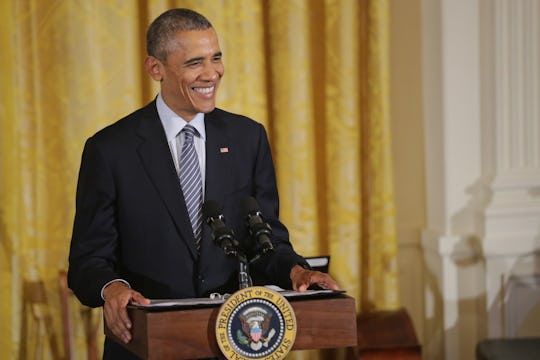 Chip Somodevilla/Getty Images News/Getty Images
President Obama Says More Women Should Be in Charge, Wins Our Love Again
Women are bosses — yes, you already know this, but I just wanted to say it loud and clear. We kick ass. There is no argument about that and there shouldn't be. In this election season, more than ever, it is important to remind ourselves that, just because certain politicians are trying to make us feel less than we are, it doesn't mean we're not strong or powerful. President Obama is not one of those politicians to tear us down. Just this week, in fact President Obama said more women should be in charge and won our love...again.
On Wednesday, Obama expressed his disappointment in the lack of women holding public office during an address at the White House. (March, you should note, is Women's History Month.) "Wouldn't it be better for America if women weren't discouraged from seeking office because of double standards, and we had more women seeking positions of power in higher office?" Obama said, during a speech at The White House in honor of the national celebration.
The speech was delivered in front of very powerful women, including Cecile Richards, president of Planned Parenthood, Dr. Jennifer Welter, the first female coach in the NFL and Nancy Pelosi, Democratic Congress leader.
Obama continued,"I'm pretty sure if we had more women in charge, things would work better."
Of course they would. Just look at Michelle Obama and all that she has done for the White House during her time as first lady.
This is important because we, as well as the rest of America, should not forget these words. It would be amazing to live in a world where a woman could run for office without being criticized for her fashion choices. To hear the president say this is a recognition that there needs to be a change and people need to recognize this.
Hillary Clinton has said that she does not know if people are ready for a female president, but said people's views have gotten better. However recent polls have shown that eight in 10 Americans say that the country is ready for their first female president — which has been a sentiment echoed by Democrats across the nation during this election season.
Obama, too, has done a lot for women during his time in the office. Since his inauguration in 2009, the president has elected two very powerful women to the Supreme Court — Elena Kagan and Sonia Sotomayor. According to The Washington Post, out of 23 positions in Obama's cabinet during his first term, nine of them were also occupied by women.
During the 2012 presidential election, it was Obama's views and passion that drew women out to the polls, eventually ending with 67 percent of single women casting their ballots for him — and they did it with good reason. Under the Affordable Care Act, insurance companies are legally required to provide free birth control to women. Talk about progress.
Just when you thought you couldn't love the Obamas more, both the president and first lady Michelle Obama spoke at the SXSW Festival in Austin and made everyone fall for their adorable antics once again: Mrs. Obama, in particular was there to speak about Let Girls Learn, a global initiative backed by the Obamas. During her presentation at SXSW on Wednesday, Michelle stated that she had no plans to run for President of the United States and according to The Chicago Tribune, sang a little bit of Boyz II Men's "It's So Hard To Say Goodbye To Yesterday." Serious role model material, ladies.
The first lady wasn't alone in her antics either: During his speech at SXSW, Obama poked fun at himself repeating the popular meme, "Thanks Obama!" and emphasized the importance of technology in our future — both of which are extremely cool of him to do, obviously.
I know that I will be missing President Obama, come next year — if his most recent statements about putting women in power are any indication, it might be one of the last positive things we hear about women in charge for some time. (Looking at you, Donald Trump.)