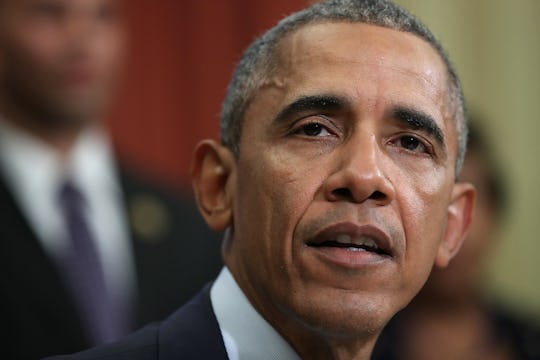 Win McNamee/Getty Images News/Getty Images
President Obama Will Issue Transgender Bathroom Decree For Public School Students
In a sweeping victory for LGBT activists concerned about the recent slew of so-called "bathroom bills," the White House on Thursday announced that President Obama would be issuing a transgender bathroom decree which would protect students in public school districts across the country. The decree, which is set to be delivered to schools on Friday, addresses fears some have expressed that banning transgender students from using the bathroom of their identified-gender could result in bullying or violence against those students. In a statement to The New York Times on Thursday evening, Secretary of Education John B. King Jr. reaffirmed the president's beliefs that transgender students were owed protections that the numerous bathroom bills circling state politics otherwise stripped.
"No student should ever have to go through the experience of feeling unwelcome at school or on a college campus," King said. "We must ensure that our young people know that whoever they are or wherever they come from, they have the opportunity to get a great education in an environment free from discrimination, harassment and violence."
According to The Times, the Obama administration was "emboldened" by a recent federal appeals court ruling in Virginia, which declared that a young transgender male student should be allowed under the law to use the boys' bathroom at his school. The ruling, which was handed down on April 19, further provided LGBT advocates the necessary ammunition they needed to attempt to block neighboring North Carolina's controversial House Bill 2, which stated that individuals, including public school students, must use the bathroom that matched the gender they were assigned at birth.
In response to that ruling, transgender advocates claimed that HB2 also violated federal public school statutes because it discriminated "based on sex in education programs or activities that receive Federal financial assistance," per Title IX's definition. In response, the Department of Justice issued a warning to North Carolina, stating that it had the legal right to pull funding from any or all publicly-funded schools or educational facilities found to be non-compliant with the appeals court ruling. North Carolina then filed a counter-suit against the DOJ, contesting the federal order against HB2. Attorney General Loretta Lynch this week filed an injunction staying HB2 until the matter was resolved with the federal government. The DOJ has also said it will not strip school funding while the case is tied up in court.
In a copy of the president's letter provided to The Times on Thursday, Obama stated that it was each school's obligation "to ensure nondiscrimination on the basis of sex requires schools to provide transgender students equal access to educational programs and activities even in circumstances in which other students, parents, or community members raise objections or concerns."
"A school may not require transgender students to use facilities inconsistent with their gender identity or to use individual-user facilities when other students are not required to do so," the president stated in the letter. "[...] As is consistently recognized in civil rights cases, the desire to accommodate others' discomfort cannot justify a policy that singles out and disadvantages a particular class of students."
The one caveat in the decree of which some activists might make note: Each student must reportedly provide confirmation through a parent or guardian that their gender identity "differs from previous representations or records"; At that point, the school must comply and treat the student's needs "accordingly," The Times reported. While there's currently no requirement for the student to provide documentation of this identity, such as with a medical diagnosis from a practitioner, it appears parents and guardians must sign off on the new identity first, which could pose problems for certain students in stressful home situations or those who have been rejected by family.
The decree, set to be delivered Friday morning, should provide students with a buffer between themselves and current state legislation that might bar them from comfortably choosing the bathroom of their identified gender within school confines. For now, however, at least on a wider scale, the fight for transgender rights is just beginning.