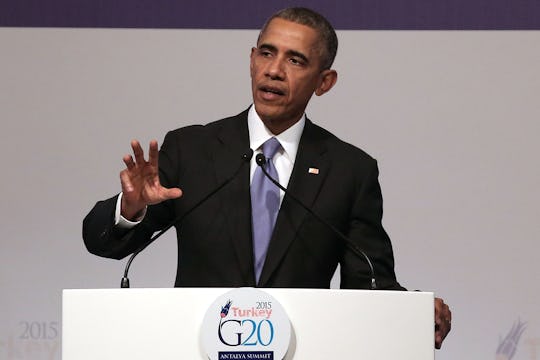 Chris McGrath/Getty Images
President Obama Won't Put More Boots On The Ground To Fight ISIS, & 4 Other Important Points His Latest Press Conference Covered
Speaking Monday at a press conference from the G20 summit in Antalya, Turkey, President Obama fielded questions from journalists about his strategy to defeat ISIS amidst the latest terror attacks in Paris, as well as new and continued threats of terrorist violence against both the United States and the rest of Europe. Having declared ISIS "contained" in Iraq and Syria only one day before the Paris attacks occurred, Obama has faced criticism about his counterterrorism strategies, with Republican opponents arguing that the United States needs an increased military presence on the ground. But during the press conference, Obama hit back, outlining his long-term plan to fight terrorism from what he called "the face of evil."
Speaking about the United States' involvement with France's increased military effort against Syria, Obama announced that the two countries had formed "a new agreement" for sharing intelligence information between them, which "will allow our personnel to pass threat information, including on ISIL, to our French partners even more quickly and more often". He discussed working with the coalition to increase airstrikes and work with local forces to help push back ISIS and cut off resources to the terror cells and increase political stability in Syria and end the civil war. But one thing he was definitely not in favor of? Sending troops to Syria to fight ISIS indefinitely:
We have the finest military in the world, we have the finest military minds in the world…[but] that that would be a mistake. If you do not have local populations that are committed to inclusive governance, and who are pushing back against ideological extremes, [then] they resurface, unless we're prepared to have a permanent occupation of these countries. And let's assume that we were to send 50,000 troops into Syria, what happens when there's a terrorist attack generated from Yemen? Do we then send more troops into there, or Libya perhaps?
Obama emphasized that, despite the criticism, he still felt confident that his long-term, diplomatic approach would be the most effective after all, and that it would be, most importantly, sustainable:
The strategy that we're pursuing, which focuses on going after targets, limiting wherever possible the capabilities of ISIL on the ground, systematically going after their leadership, their infrastructure, strengthening [local] forces that are prepared to fight them, cutting off their borders, and squeezing the space in which they can operate until ultimately we're able to defeat them, that's the strategy we're going to have to pursue.
But while most of the press conference focused on the President's military approach to fighting ISIS, that wasn't all he wanted to talk about.